8-minute guide on choosing a crypto exchange for listing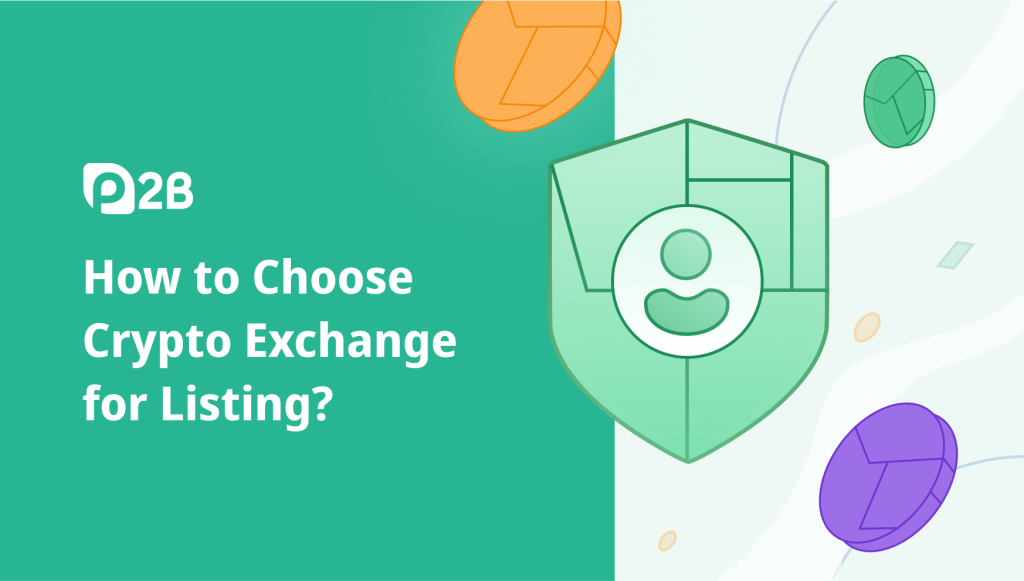 Have you already launched your own token? Or are you still looking for the most reliable crypto exchange for listing with a wide range of benefits and don't want to spend money on additional listing agency services? We will help you figure out how to choose a cryptocurrency exchange for the listing of your coin. In this extensive guide, we will shed light on what to pay attention to when choosing the best crypto exchanges on the example of the P2B exchange. 
What is a cryptocurrency exchange?
The crypto market is still in the developing phase. Therefore, advanced crypto startups want to get their part of the market share as soon as possible with the biggest success guarantees. 
A crypto exchange is a platform for purchasing and selling cryptocurrency assets. If you have launched your own coin or token, the cryptocurrency exchange will provide you with listing services and add your coin to the crypto exchange list, and thus, your token reaches the market. As an exchange user, you can store allowed digital assets and the cryptocurrency you've already purchased. 
Currently, many cryptocurrency exchanges offer a wide range of crypto assets, diverse security levels, and associated fees. You should choose one of the digital asset exchanges matching all your particular needs, price range, and security expectations.
Types of cryptocurrency exchanges
Before answering a question about how to choose a cryptocurrency exchange, let's consider the following typology:
Brokers. Traditional securities brokers can act as intermediaries between the cryptocurrency markets and investors who purchase and sell cryptocurrencies. Any customer can visit an online broker and buy cryptocurrencies at prices offered by a broker. 
Traditional crypto exchanges. These platforms ensure the buying and selling of cryptocurrencies based on daily market prices. They often charge fees for transactions. At some exchanges, you can trade just cryptocurrencies; on others, you can trade fiat currencies for cryptocurrencies.

There are two types of exchanges, centralized and decentralized:
Centralized cryptocurrency exchanges.

A centralized crypto exchange is controlled by a third party while ensuring customer sign-up and trading runs smoothly. These crypto exchanges allow linking your bank account or debit card to purchase crypto. Because of a high level of regulation, c

ustomers need to provide their personal data to sell or purchase a cryptocurrency.

Due to the mediator's services, users also pay fees. Investors can purchase and sell digital assets on many centralized exchanges with fiat currency and other cryptocurrencies.

These exchanges centralize all the crypto assets in their storage capacities. 
Decentralized Cryptocurrency Exchanges.

A decentralized crypto exchange or DEX provides servic

es without third-party oversight and depends on peer-to-peer (P2P) trading. A decentralized exchange isn't a mediator during the assets exchange. Such platforms are built on the blockchain, allowing both parties to participate in P2P transactions for minimal fees. Parties stay completely anonymous and can exchange assets without the need to trust each other.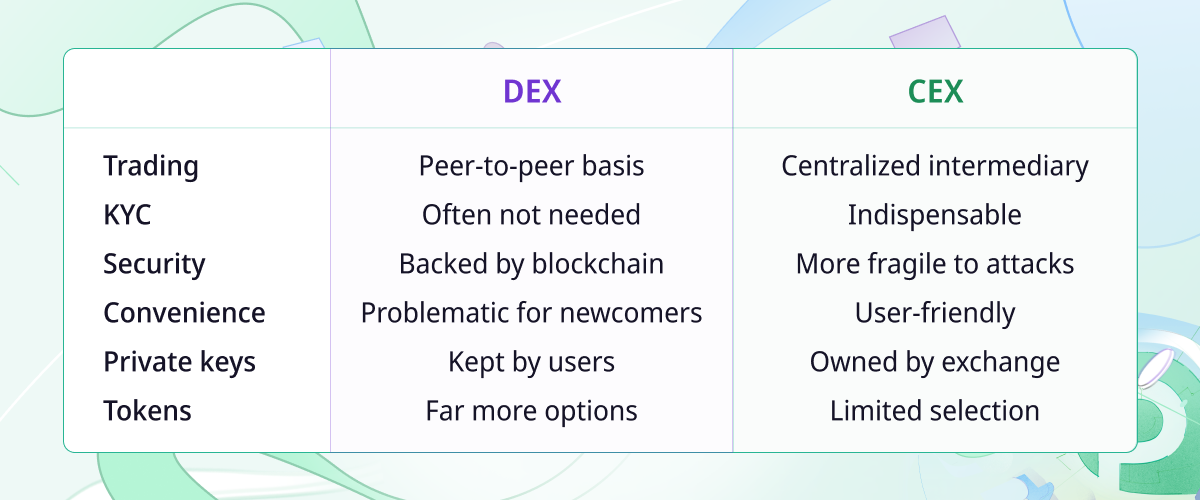 DEX and CEX comparative analysis 
How does crypto exchange work?
While choosing a crypto exchange for the launch of your crypto project, you should pay attention to the services offered by this crypto exchange and offered development possibilities for your project. As usual, crypto exchanges have diverse operational structures. Moreover, every crypto exchange offers diverse listing rules, services, products, and functions to its customers.
Very often, crypto exchanges offer the following services:
Listing service. A token listing is a process of making your cryptocurrency available for trading on the exchange. It can include the launch of ICO (Initial Coin Offering), IEO (Initial Exchange Offering), IDO (Initial Decentralized Offering), and STO (Security Token Offering). Be sure to check out our latest explanation on what the listing process is all about.

Market making. This service involves providing investors, traders, and market participants with virtual assets liquidity.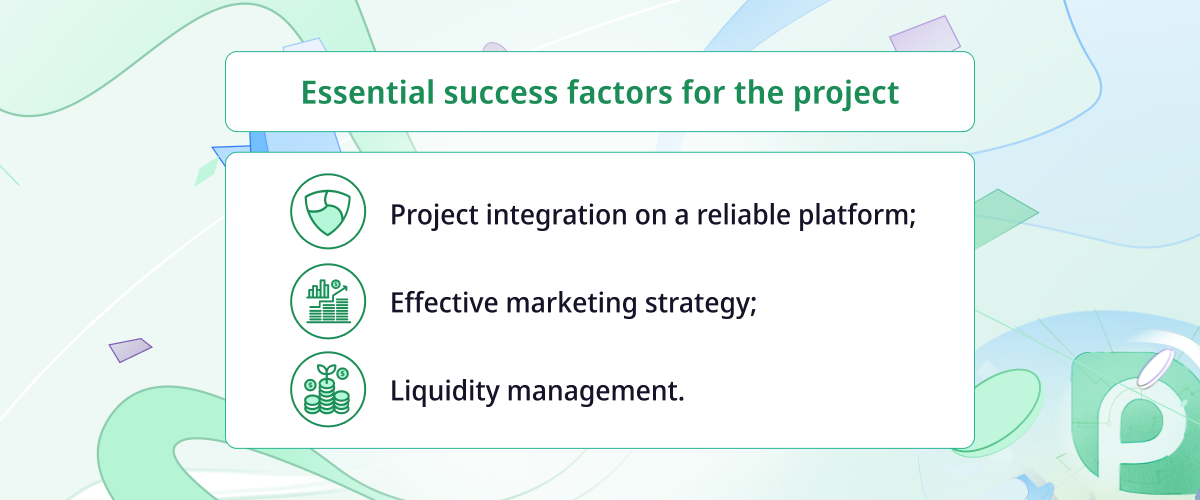 Essential success factors for the project
Available services can vary depending on the crypto exchange and strategy chosen for your crypto project. 
Do you want a listing expert to explain the details to you?
If you have decided to list your token or coin on the cryptocurrency exchange, pay attention to several essential points to make your coin listing a smooth experience:
Listing token variety

. The more blockchains the platform supports, the more coins are available to list at this exchange.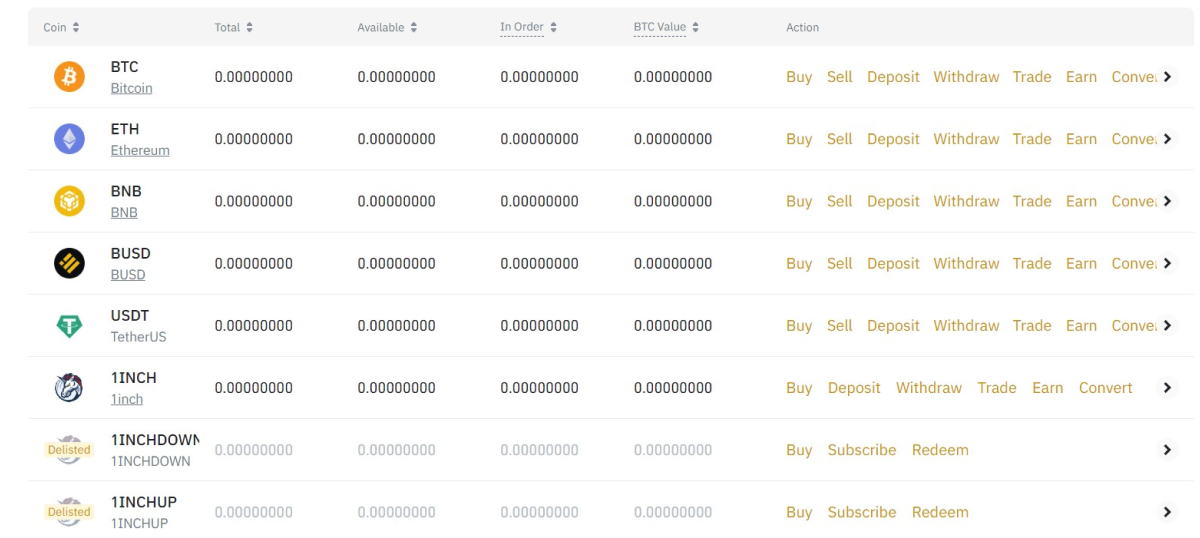 Source: Binance Fiat and Spot Wallet
Security and safety.

The cryptocurrency industry has remained vulnerable to hacking and security breaches. Therefore, the higher level of security the crypto exchange offers, the better it is for customers. Many cryptocurrency exchanges offer two-factor authentication and reliable security measures against phishing scams, attacks, and other theft attempts. Sometimes, platforms offer a biometric login. In addition, some crypto exchanges hold bounty programs, in which hackers can spot vulnerabilities and report them for rewards. This ensures the strengthening of the security system of the cryptocurrency exchange.





One of the most reliable ways to protect your assets from fraudsters is to choose a cryptocurrency exchange for listing where the KYC verification has been implemented.

According to the AML policy updates, crypto exchanges need to implement KYC verification to protect customers and their funds from financial regulators and crypto assets restrain and forfeiture.

KYC verification is a security procedure for users to provide government-issued proof of identification before opening a new crypto exchange account.

Crypto exchange rating

and reputation

in the crypto industry. Before listing your token or coin on the crypto exchange, you should research the reputation of the crypto exchange in the crypto community and learn the rates of exchange on reputable platforms which explore the advantages and disadvantages of diverse crypto exchanges carefully, including CoinMarketCap

, CryptoLists.com

, Cryptowisser, CoinCodex, Cryptocompare, and others.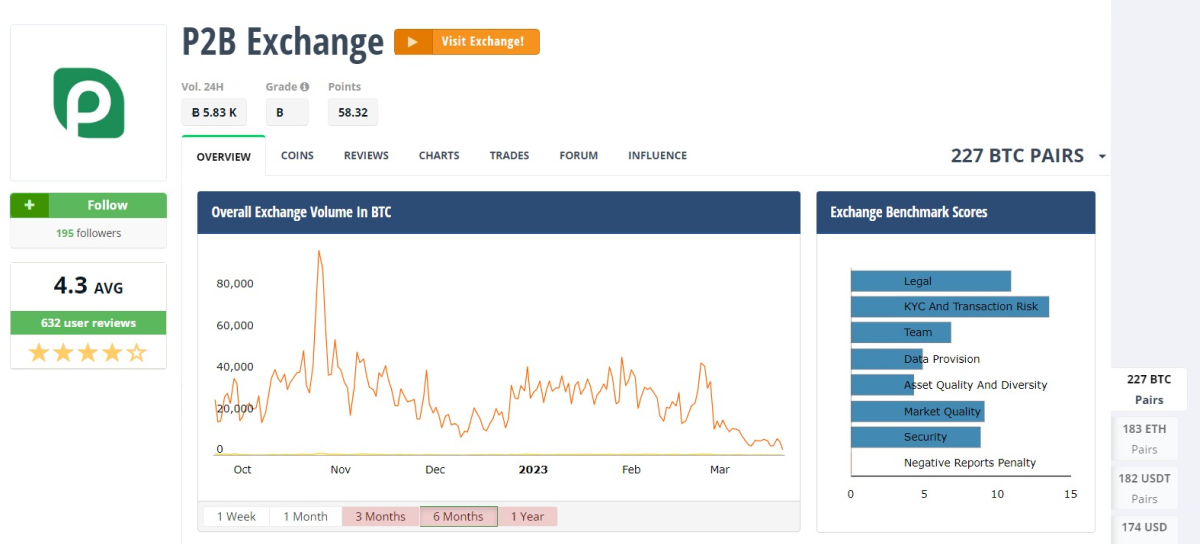 Source: P2B Exchange Rating on CryptoCompare
Purposes of your project

and what audience your project is targeted on. If you want to reach a vast community, choose cryptocurrency exchanges that have become popular worldwide.

Additional marketing or liquidity services

are offered by the crypto exchange or its reliable partners. If you want your token to be in demand on the crypto market, then choose crypto exchanges that will help you promote your crypto project and enhance the token liquidity. 
Why choose the P2B exchange to list your token or coin
Security reasons
P2B is one of the most reliable crypto exchanges worldwide. According to the Сer.live rating, one of the most reliable independent crypto rating sources, the P2B security rating is AA, with an 88.30% security score. The P2B exchange is fully certified. Among the most significant security factors, Cer.live emphasizes an approved penetration test, ongoing bug bounty, and untouchable funds principle. 
Variety of supported blockchains
While choosing a crypto exchange for a successful listing of your token, pay attention to whether your token is compatible with the blockchain offered by the crypto exchange for listing. The more blockchains the cryptocurrency exchange supports, the more variable token projects can list on the exchange.
One of the main benefits of the P2B crypto exchange for crypto startups who want to list their token on the exchange is a variety of supported blockchains. Today P2B is the first crypto exchange in the world for the variety of available blockchains. It offers the most extensive list of networks for listings in the international crypto market, among which 24 of the most popular blockchains worldwide, including Ethereum, BSC, Tron, Solana, Polygon, and others. Overall, the P2B exchange has launched more than 1000 crypto projects.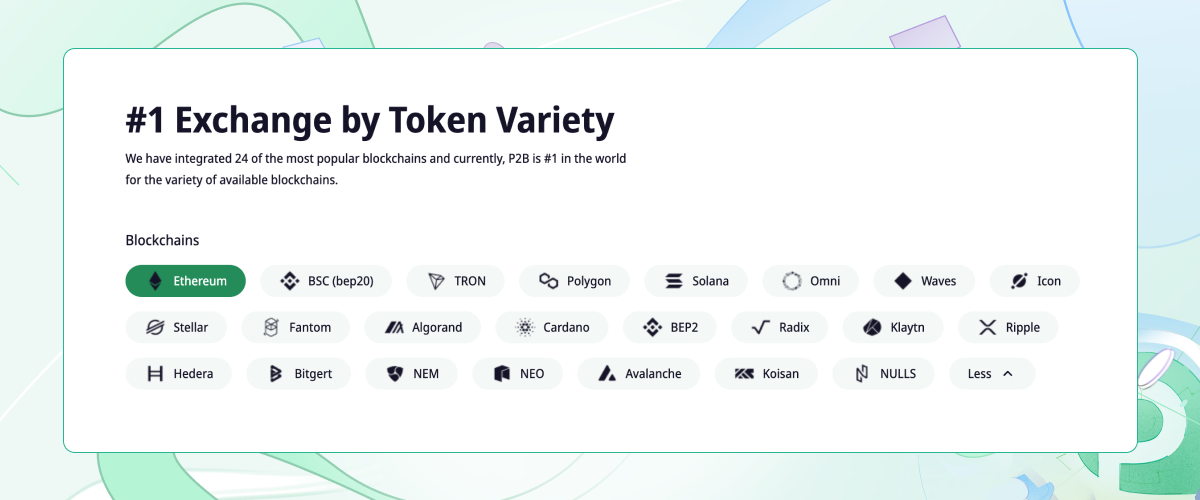 Source: Token Variety on P2B Exchange
Reputation and experience in the crypto market
In the crypto industry, reputation is hard to reach and easy to lose. Regarding the rating and reputation of the cryptocurrency exchange, P2B belongs to the top 40 global crypto exchanges and is among 15% of exchanges by growth tempo, according to CoinMarketCap.
Moreover, the P2B exchange takes top places in other ratings like Coingecko, CryptoLists.com, Cryptowisser, Coincodex, Cryptocompare, Nomics, and others. P2B has been one of the most trustworthy crypto exchanges for over 5 years, highly evaluated by crypto experts. 
You can investigate the P2B rating provided by other independent crypto platforms in this review.
Target Audience
The first purpose of your crypto project is to search for your target audience and step into the light spot with your business offer. The P2B platform helps customers to find their target audience and promote their projects in the cryptocurrency community. The P2B community is very active on the platform and social networks. A huge community gives customers rapid updates on your project—your token will be in the limelight. This contributes to the involvement of new impactful investors. According to the website statistics, more than 2,5 million customers visit the P2B exchange monthly. In addition, the daily trading volume exceeds $1 billion US.
Recently, P2B and Cointelegraph have become strategic partners. Thanks to this partnership, P2B allows its customers to present their crypto projects to the most-scale audience involving new investors and building a new solid brand trustworthy on the market. 
Untouchable Funds
One of the main benefits of the P2B exchange is that funds deposited by users stay untouchable. They are stored in the customers' wallets and are not used for the needs of the cryptocurrency exchange. According to the designed business model, the P2B cryptocurrency exchange doesn't access, reinvest or manipulate the users' funds to get an additional profit. Moreover, the exchange guarantees the availability of deposited assets for the users. Anytime customers need them, they may withdraw any sum from their wallet.
Full-cycle support
The P2B exchange provides its customers with a great opportunity to get support for their crypto projects at the beginning of their launch, starting from the crypto listing consulting and ending with crypto project marketing and promotion services. The shortest preparation time for listing on the market allows customers to start getting the investments in around three days on P2B. The exchange is a great platform for investors who are looking for the most profitable projects to invest their funds.
The main mission of the P2B platform is accelerating and developing crypto startups. Therefore, it interacts with a pool of reliable companies in the crypto projects' promotion and advanced liquidity services, including PromoJ and LiquidLines, which offer additional support for your cryptocurrency, including marketing and liquidity services, and a business development consultancy. These services help develop your crypto project, promote it among the target audience, build a strong community, and give it enough liquidity to make a cryptocurrency attractive for profitable investors. 
List your token on P2B and get full-cycle support
Liquidity and volume
While choosing a cryptocurrency exchange for listing your token, you need to pay attention to crypto exchanges with high liquidity, providing a platform with a high volume of trades and resulting in the prices' stability. High liquidity indicates a vibrant and stable market in the cryptocurrency ecosystem where participants can trade quickly, easily, and at fair prices. As a result, the level of customers' trust increases while involving more participants in the community. 
Key points while choosing a crypto exchange for listing
While looking for the best cryptocurrency exchange to list your coin or token, you should pay attention to the list of characteristics:
Reputation and rates of the cryptocurrency exchange at reputable crypto platforms;

A level of security and reliability;

Experience of the exchange;

Cryptocurrency exchange development

and its prospects;

Variety of supported blockchains

;

Untouchable funds;

An average number of visits per month;

Average daily volume.

Additional services on the crypto exchange, including liquidity and marketing services.
As mentioned above, the P2B exchange can boast a wide range of benefits compared to other cryptocurrency exchanges. Among them, we can emphasize listing tokens' variety, high ratings on reputable crypto platforms, untouchable funds principle, full-cycle support, high-level security, etc.
Thanks to all these benefits, the P2B exchange can offer its customers a fast and reliable listing of their tokens and further crypto project acceleration. P2B provides high-level liquidity, effective promotion of the crypto projects, and the involvement of new impactful investors in the community of the crypto projects.
List your token on P2B and enter the mature crypto market with confidence