What is the difference between IDO and IEO crypto launchpads?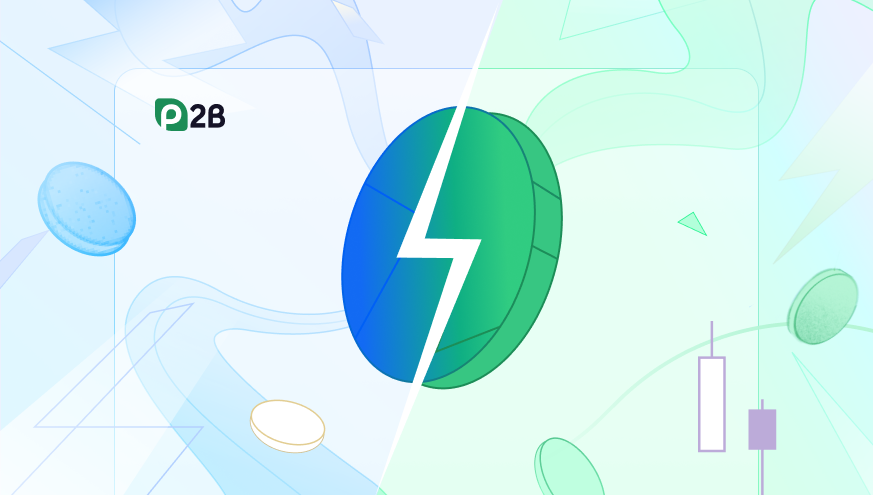 Do you want to find out the difference between an IDO and IEO crypto launchpad? Then read a short guide on choosing the most matching way of fundraising for your project. You will find out the advantages and disadvantages of an IDO/IEO crypto launchpad and why they have become increasingly popular among projects.
What is a launchpad platform?
Let's start our exciting trip from the crypto launchpad explanation. 
A launchpad is a platform on a DEX (decentralized exchange) or CEX (centralized exchange), assisting projects in fundraising while making them visible in the crypto market. IDO/ IEO launchpads provide projects with additional mentorship, marketing, promotion, and technical support services. 
Let's consider the essential benefits of launching a project with a DEX/CEX crypto launchpad: 
You will get access to a sizable crypto community;

Full-cycle support during the IDO/ IEO launch and token listing from the team of professionals;

Pre-IEO and post-IEO promotion and marketing services;

Market-making and liquidity services to support token liquidity after listing;

Access to a set of additional resources and tools of a DEX/CEX launchpad.
When it comes to the most popular IDO crypto launchpads, we can emphasize Binance Labs, OKEx Accelerator, Huobi Prime, and Bitfinex Pulse. Some successful projects have launched crypto presales on these launchpad platforms to raise funds and build a significant user base.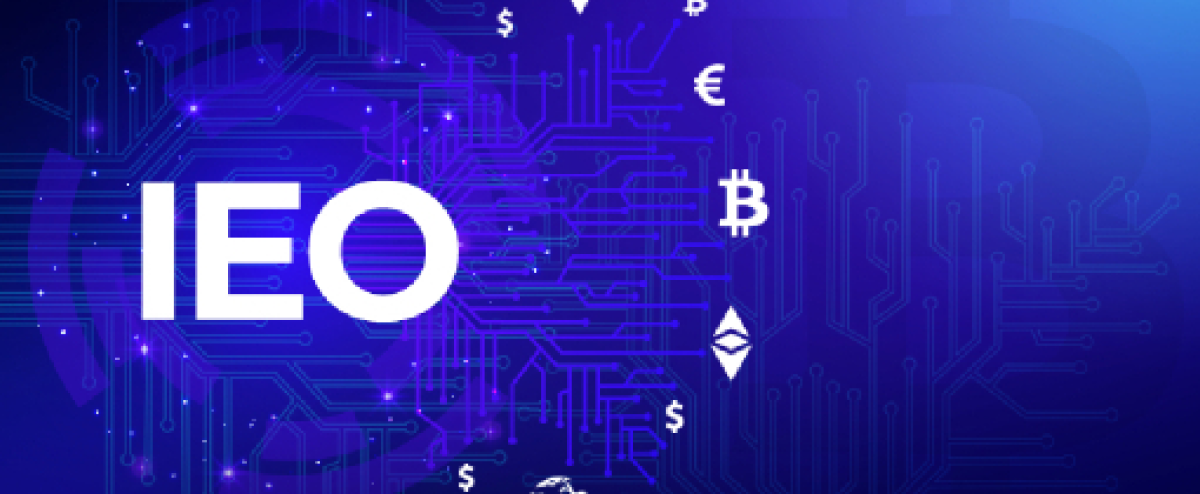 Source: Cryptopresales
Crypto startups who want to launch their projects via IEO launchpads must go through the application procedure settled by a CEX. The selection criteria rely on the platform and can vary. However, among the essential criteria of a launchpad, we can emphasize the following:
A well-designed MVP (a minimum viable product);

A representative white paper;

A strong community;

Information about the experience of the team members in social networks and reputable platforms;

The practical usefulness of the project;

The size of the prospective market;

Marketability etc. 
The mission of an IDO/ IEO launchpad is to enable newly-launched startups to develop, providing growth in the crypto field. IDO/ IEO launchpads play a significant role in the growth of the blockchain ecosystem by assisting projects and providing them with the resources they require to develop. 
An IDO/ IEO launchpad is vital to the crypto field's health since they provide projects with additional visibility. They are incubators enabling new projects to develop and involve new investors. 
IDO/ IEO launchpads benefit the crypto industry since they enable investors to discover early-stage projects and participate in their crypto presales, allowing them to purchase tokens for a lower price.
One more reason for the importance of launchpads' role in the crypto world is connecting like-minded individuals with breakthrough startups via a DEX/ CEX platform where everyone can invest and profit from the emerging market. Even if a startup launches its project via a DEX/ CEX launchpad, it doesn't mean that this project will win the jackpot. The project can fail while some significant risks appear during the investment.
Best DEX/ CEX launchpads can vary in the work. However, the majority of launchpads have the same features: 
Investors must have, and possibly stake, a minimum number of native platform tokens.

Users are divided into groups regarding the number of saved or pinned tokens. Higher levels typically get larger allocations, better access to CEX launchpad projects, and fewer non-essential requirements.

Teams of CEX launchpads choose promising projects that will bring profit to investors. 

As usual, a launchpad provides newly-launched projects with additional marketing and promotion services to make a project visible in the crypto market and attract new investors. 
The IDO/ IEO crypto launchpad is vast, with myriads of crypto presale launchpad platforms available now. Most IDO/ IEO launchpads work with projects running on a particular blockchain network. Others focus on particular fields or niches, including NFTs, DeFi, games, and metaverse projects.
Regardless of the risks, launchpads are popular among projects and investors today. Therefore, we will investigate the difference between different types of a crypto launchpad. 
What is an IEO launchpad offered by a crypto exchange?
IEO crypto presales are launched on crypto exchanges to raise funds for a crypto project and make a project visible to potential investors. A crypto project listed on a reputable platform causes more trust in potential investors. But take this trust with a grain of salt. Launchpad platforms don't provide investors with all the information on the projects; they promote them and provide crypto investors with the benefits of the projects.
For instance, applying for the Binance launchpad, the largest crypto exchange worldwide by trading volume, a crypto project must undergo "rigorous due diligence."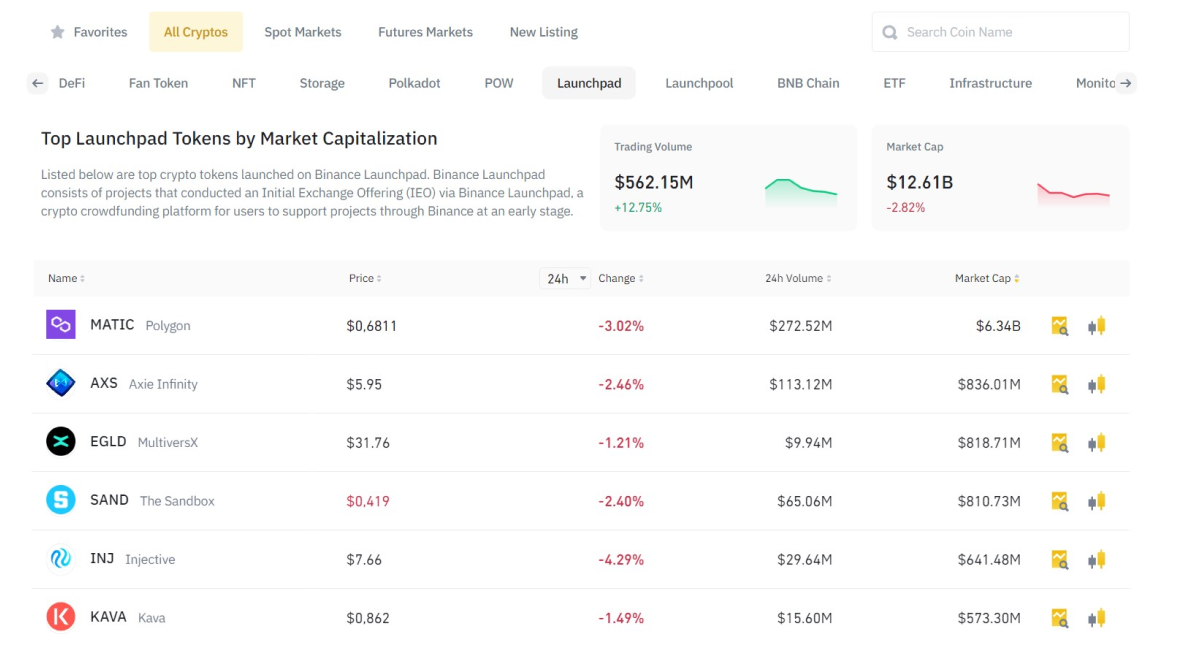 Source: Binance
IEOs launched on the crypto exchanges provide crypto projects access to a large, more highly liquid market than ICOs. Due to this, crypto projects get access to a target audience already interested in buying new tokens and allow sales to be boosted by the marketing power of the crypto exchange. In addition, with IEOs, investors can buy tokens with funds they already hold on the crypto exchange making the investing process easy. 
IEOs are sometimes more secure than ICOs. However, launching their crypto projects on crypto exchanges, they pay to be listed, so only established projects can earn a spot. And, sometimes, they sign agreements that prevent them from listing tokens on competitive crypto exchanges.
IEO crypto launchpad pros and cons are the following:
IEO crypto is

arranged via a trusted crypto exchange platform. This also gives a crypto project more legitimacy and credibility, involving new investors. 

Reliability.

Since IEOs are carried out through third-party crypto exchanges, they run smoothly. Crypto exchange platforms hold the responsibility for transactions.

Better user experience.

While participating in IEO crypto presales, investors have a better user experience than ICOs.

Lower risks.

Investors face a lower risk of fraud since IEOs are regulated according to the CEX's set rules.

Additional services.

While launching your crypto project on the crypto launchpad, you can get additional promotion and marketing services helping to boost your project and involve new investors. 

Full-cycle support.

A crypto exchange provides projects with full-cycle support during the launching of IEO crypto presale. All you need to do is to prepare your crypto project to launch on the crypto launchpad. 

Post-IEO liquidity and market-making services.

Some crypto exchanges offer their customers post-IEO liquidity and marketing services to provide a token with more liquidity. This allows a token to be liquid in the crypto market and maintain its viability. 
Let's consider some disadvantages of IEO crypto launchpads:
High fees.

Listing fees on reputable platforms can be quite high. In addition, startups may be asked to give the crypto exchange a commission from token sales. Therefore, you can launch your crypto project on less popular platforms with lower fees than reputable platforms.

Pump and dump scams.

Crypto pump and dump scams provide additional risk for the IEO crypto presale. These scams are arranged by scammers who try to create fake hype around a token to involve investors dishonestly and drive prices.

Due diligence procedure.

On some platforms, crypto projects need to go through the due diligence procedure. 

Strict selection criteria.

When applying for a reputable crypto launchpad, your crypto project must require strict selection criteria settled by a crypto exchange. However, popular platforms, including Binance, get a thousand applications for a crypto launchpad and launch just a percent from this long list. If you are looking for an alternative, pay attention to less-known platforms which accept applications from diverse projects and provide newly-launched projects with a crypto presale, additional marketing, promotion, and liquidity services.
Do you want to launch IEO and avoid strict selection criteria?
What is an IEO crypto launchpad offered by the P2B crypto exchange? 
The P2B crypto exchange offers a crypto presale launchpad for newly-launched projects, providing full-cycle support and additional market-making and liquidity services.
Let's consider the essential benefits of the IEO crypto launchpad by P2B:
Expansion in other markets.

The P2B launchpad promotes IEO on external platforms and the P2B crypto exchange. 

Competitive prices.

Crypto startups

can launch IEO crypto presale at competitive prices compared to other more reputable and popular platforms, including Binance. 

Full-cycle support.

The P2B team provides newly-launched crypto projects with full-cycle support, starting from the pre-IEO marketing campaign and ending with post-IEO liquidity and market-making services. 

Partnership with reliable companies.

P2B offers high-quality marketing and liquidity services due to the interaction with a pool of reliable companies in the crypto projects' promotion and advanced liquidity services, including

PromoJ

and

LiquidLines

. 

Well-designed marketing campaign.

A well-designed marketing campaign is one of the most effective ways to boost a crypto project and involve new investors. It includes sending letters to verified P2B clients and holding AMA sessions.

Clarity, transparency, and accessibility.

The P2B launchpad hosts IEOs and holds fundraising transparently for both crypto startups and investors.

Vast crypto audience.

Attention to young crypto launchpad projects and creating a vast crypto audience. It is a commerce platform that permits to encourage more investment rounds in newly-launched crypto projects;

Untouchable funds.

According to the designed business model, the P2B exchange doesn't access, reinvest or manipulate the users' funds to get a profit.

Token variety.

P2B offers the most extensive list of blockchains in the international market, 24 of the most popular networks worldwide.

Top-level reputation in the crypto market.

The P2B exchange can boast a high-level reputation of the exchange and experience in the market. According to CMC, P2B is in the Top-25.

Security.

According to the

Сer.live rating

, one of the most reliable independent rating sources, the P2B security rating is AA, with an 88.30% security score.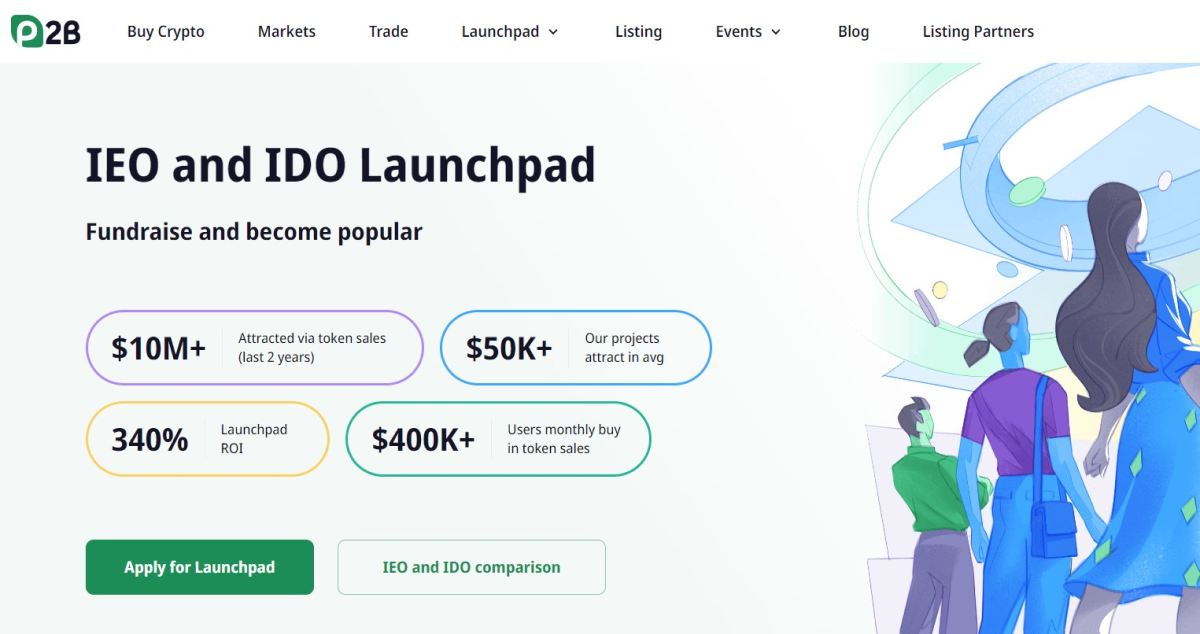 Source: P2B Exchange Official 
Looking for the best crypto launchpad for newly-launched projects?
What is an Initial DEX Offering?
An Initial DEX Offering, or IDO, is a crypto offering launched on decentralized (DEXs) or centralized exchanges (CEXs) offering an IDO crypto launchpad. 
Among the most popular DEXs and decentralized incubators offering launchpads, we can emphasize DAO Maker, BSCPad, GamesPad, Polkasterter, Seeify, and others. A DEX (decentralized exchange) is a decentralized liquidity platform with no single point of authority. Therefore crypto projects can launch token presales on DEXs faster without waiting for the crypto project's validation. 
Compared to ICO and IEO, where investors initially invest in tokens, and then this token is listed on the exchange, during an IDO, the initial sale of coins and their listing occur almost simultaneously. The essential difference between these fundraising rounds is that the exchange doesn't validate the applications for IDOs since they are based on smart contracts.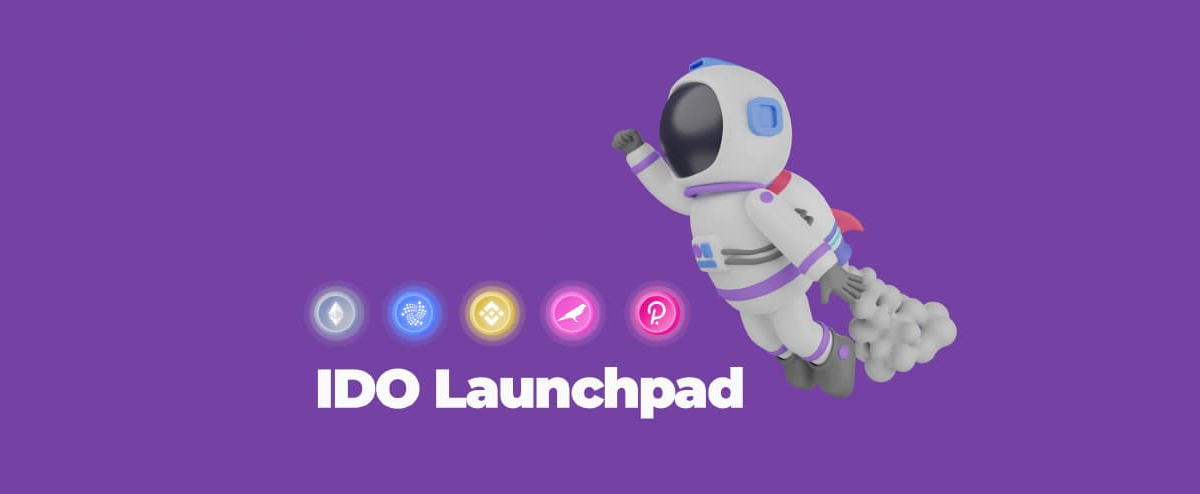 Source: Solomonstore.sk
The IDO model has become very popular since crypto projects can raise funds without using intermediaries. Investors can profit from instant token trading, resulting in a win-win scenario for everyone.
So, let's consider what an initial DEX offering means in detail. IDO, the initial DEX offering, is launching a crypto project on the decentralized liquidity exchange that can technically hold IDO. 
An IDO launchpad provides crypto projects with a tool for involving their communities in the economy while promoting their products and services on the market and raising their liquidity level. 
IDO launchpads match DeFi, NFT, and Play-to-Earn projects with a combination of launchpad crypto gaming. 
Compared to ICOs, IDOs offer some benefits:
Instant liquidity and trading.

Crypto projects hosted on the IDO launchpads get instant liquidity and are listed on the exchange simultaneously.

Based on smart contacts.

Due to smart contracts, crypto projects don't need to go through the validation and verification procedure by the crypto exchange. Token sales are launched automatically.

Stability.

Since investors don't get all the tokens at once due to the reduced sale size, an IDO is more stable than an IEO.

Affordability

. The amount of staking demanded to join the IDO is lower than ICOs while ensuring less risk of being dominated by the project launch. 

Transparency

. IDOs go further with DeFi since choosing a promising initiative and launching the token sales are decentralized and are not controlled by one institution or group of people. Anyone can look through the process data meeting entire transparency.

Lower costs and faster profits

. While launching an IDO, a crypto startup just pays fees to process transactions on the exchange. 

Ultimate privateness.

While launching an IDO, a crypto project keeps its anonymity. 
P2B IDO launchpad benefits
Let's consider the benefits that you get while applying for the P2B launchpad:
Registration free.

You won't go through the exhausting registration process requiring validating your person and much more.

Multiple IDO announcement channels.

We will engage a 300K+ audience to announce your Launchpad crypto project.

Promotion and PR.

The P2B team of professionals provides a crypto project with an effective promotion pre-IDO strategy inside and outside the exchange.

Liquidity and market-making services.

P2B offers additional liquidity and market-making services to IDO projects after listing. 

High-level security.

The P2B exchange guarantees a Tier 2 level of security to your crypto projects in the top crypto launchpad.

Fast listing.

It takes around 1-3 days before listing after IDO fundraising.
Looking for the best crypto IDO launchpad to launch your project?
Read more articles in Business Insights