What is NFT Token?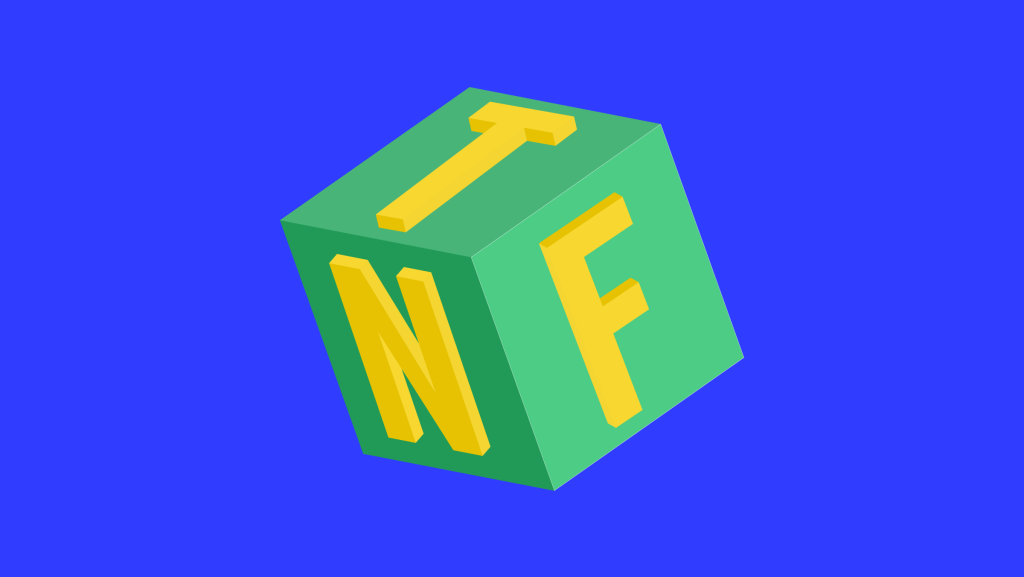 Intro
What is NFT crypto and why do people pay so much attention to it? First of all, the popularity of NFTs crypto can be explained by impressive trading volumes. For example, just in February 2021 NFT trading volume was $340 million. This amount is more than the trading volume for the whole year of 2020.Though the notion of ordinary tokens is quite clear even for those who have never bought or sold cryptocurrencies, many people still don't actually understand what NFTs crypto are. It is time to clear up this issue and stop missing a great chance to invest in the best NFT coins or at least learn more about the latest NFT cryptocurrency trends. We offer you to learn key information from the NFT Bible and get to know more about the NFT ecosystem.
So, what is NFT in cryptocurrency? NFT meaning still confuses a lot of crypto investors and makes them search the Internet.
Non-fungible tokens NFT are data units that prove ownership of digital NFT assets, such as music, texts, pieces of art, club cards, etc. Have you heard that, for example, the 8th studio album of American rock band Kings of Leon "When You See Yourself" was converted into NFT crypto before its release? It is the first NFT music album in crypto history. The famous burned artwork entitled "Morons (White)" by Banksy is another interesting example. It was sold through NFT for $95,000.
Is it still not very clear, what is an NFT crypto? Don't give up, keep reading to clarify this issue and learn a lot of interesting things from the NFT world.
The essential feature of NFT is reflected in the word "non-fungible". All other tokens are, roughly speaking, fungible. This means that a Bitcoin stored in a wallet of user A equals to a Bitcoin stored in a wallet of user B. Talking about NFT tokens, the situation is different: an NFT token representing an artwork that belongs to user A does not equal another NFT token of user B, because they may refer to different artworks which were created by not the same artists and have completely different prices.
What is an NFT?
NFT tokens crypto can't be copied. Each NFT coin contains unique information recorded in smart contracts, that is why they are so different. But this doesn't fully answer the question: what is an NFT?
Developers have solved the problem of securing ownership of digital NFT assets with the help of NFT. Information about the owner and their tokens is fixed in the blockchain, it is impossible to replace or delete information blocks.
Early experiments with NFT are associated with such solutions as Colored Coins (2013) and Counterparty (2014). They enabled the tokenization of digital assets on the Bitcoin blockchain.
Rare Pepe Directory NFT project (memes with Pepe the frog) became extremely popular in 2017. Crypto Punk NFT pixel portraits developed by Larva Labs became the first Ethereum-based cryptocurrency NFT project, besides, this is the most expensive NFT.
Tokenization of non-fungible assets quickly extended to card games, such as Gods Unchained, RPGs (Neon District), sports games (F1 Delta Time), financial instruments (yinsure), etc. As a result, creating and trading NFT became extremely popular.
Keep reading to learn more about various NFT projects and the best NFT crypto coins. Besides, we will answer the question: what is NFT marketplace?
Crypto NFT price
When answering a popular question above (what are NFT tokens?) we have not considered NFT prices. It is time to highlight the issue concerning NFT token price by examples of NFTs.
In the first quarter of 2021, NFT sales grew 20 times and exceeded $2 billion. At the same time, according to Non Fungible tracker, the number of people buying NFT is twice more than the number of companies selling NFT.
But you should remember that NFT non-fungible tokens are not only a new and rapidly growing blockchain segment showing relatively high NFTs crypto price, but also a high-risk area. There is no fair NFT crypto price in this market as well as sufficient liquidity, besides, the NFT exchange is not verified.
Two metrics are used for estimating NFT trading volumes in USD. The first one reflects the NFT price that was transferred through a transaction between the seller and the person who is going to buy NFT tokens. The second metric reflects the value that was transferred when interacting with smart contracts, for example, operations related to the modification of NFT crypto coins, their grouping, etc.
Non Fungible's report shows that despite the drop in activity after the peak in February, sales are growing faster than the number of active NFT wallets. This may indicate an increase in the average value of traded NFTs.
What is OpenSea NFT?
If you are looking for NFT sites where to buy NFT, we would like to draw your attention to OpenSea, Rarible (where you can buy RARI tokens) and Mintable. Let us tell you more about the first one, since it is the best NFT token website to start with.
OpenSea NFT company is the largest crypto NFT trading platform in the market. Consequently, it is one of the best NFT sites on the Internet to buy NFT crypto, sell crypto NFTs and discover rare and new digital items.
This marketplace enables anyone to create their own NFT crypto token collections. All you need is to have an Ethereum wallet and a piece of content such as pictures, audio tracks, videos, 3D models, etc. You can make your pieces of content visible only to the OpenSea NFTs holders who have bought NFTs tied to your asset.
But not only creative people have NFT websites, sports lovers also have a place on the Internet from the NFT crypto list: we are talking about NBA Top Shot NFT.
NBA NFT
Top Shot NFT is a platform with a selection of the most spectacular and important episodes from NBA games that are available in the form of collection packs having different starting prices based on statistics.
For example, regular NBA NFT packs cost nearly $9 and include 9 common episodes that have up to 1000+ copies in various packs. Rare packs cost $22, since include 1 rare episode in addition to regular ones. An episode can be considered as rare if it was copied not more than 999 times.
The rarest episodes are called legendary and they are included in packs that cost $230. Such packs include 6 regular and 3 rare episodes and a legendary one (packs like this have only 99 copies.) In addition to common NBA NFT tokens trading on the platform, users can participate in challenges to gather a collection or some episodes with the same player. If you are lucky enough, you can get a game moment that is needed by another trader who is ready to pay tens times more than the price of the initial pack you have bought.
By the way, many companies dealing with sports in a way have their own NFT offers, Nike NFT is a good example.
NFT popular websites
Please note the list will become longer in the future due to the popularity and availability of NFT projects. There is one more remarkable platform called Pixura which provides for quick launching crypto-collectibles marketplaces.
According to NFT Coinmarketcap, top 10 marketplaces by total value of tokens sold is currently the following:
NBA Top Shot ($399,15 million);
Open Sea ($237,91 million);
Crypto Punks ($166,46 million);
Rarible ($71,34 million);
Sorare ($42,35 million);
Axie Infinity ($19,7 million);
Aavegotchi ($11,72 million);
Foundation NFT ($9,19 million);
Atomic Market ($7,83 million);
Crypto Cats ($2,45 million).
Besides, anyone can create their own NFT on Coinbase, OpenSea, NFT Binance and many other platforms.
NFT audio
We have considered what NFTs in crypto are and given many examples of successful projects. But a careful reader may come to a conclusion that mostly visual artists can hit the jackpot with NFT. This is not true and we should highlight the subtopic of audio NFT. Musicians also have an opportunity to sell their tracks and albums high.
DJ and producer 3Lau, Mike Shinoda from Linkin Park, singer Grimes and many others have already made money on the sale of their tracks tied to NFT tokens. Canadian singer and record producer Abel Makkonen Tesfaye widely known as The Weeknd also announced that he is about to release NFTs of his new songs. Controversial punk-rock band Pussy Riot from Russia went even further and sold just an NFT fragment of their music video "Panic Attack". Rapper Kizaru announced that he is going to sell the cover of his new album "Poison" in the form of NFT tokens.
Thus, experience has shown that NFT with music has a lot to do.
Cryptokitties NFT
Cryptokitties NFT is one of the best NFT crypto projects that is known worldwide developed by AxiomZen studio. The project is so successful that after a couple of weeks from the date of its lunch Cryptokitties acquired 15,4% of the whole Ethereum traffic.
This is a popular hype and a gamified investment project that helps users earn crypto in an unusual way. All you need to do in this game is to breed virtual cats. The process resembles staking crypto but in a slightly different form. Breeding virtual cats is the basic task of the game. You should try various strategies to make your digital pets give birth to more valuable kittens.
Each virtual cat appears with its individual characteristics and parameters. According to the game rules, this information cannot be fabricated or copied. Every cat is a unique creature that can only fall in love with another one and give offsprings. Then a user can keep new kittens for further breeding or sell them.
NFT sale cards
Now we would like to tell you about an interesting project called Crypto Buds that represented the first NFT card collection for sale. The whole supply consists of 10,000 collectible cards. The idea turned out to be extremely successful: more than 200 NFT tokens were sold within a couple of the first hours. By the end of the first week, over 1400 NFT coins were sold!
The collection of digital cards drew attention to many people, some of them even didn't know what non-fungible tokens were. It includes various artistic Headphones cards, some of them are limited, rare or even completely unique. Each card is recorded on the Ethereum blockchain and synced to the OpenSea platform.
According to Crypto Buds, this project has grown from the great love for music, headphones and visual digital art. A relatively high price of the collectible cards is motivated by their limited availability. The authors of the project placed their bet correctly: people pay much attention to it and are already hunting the rarest cards.
It is interesting that selling cards is digitally randomized. It was done to prevent people from buying super-rare and unique ones at first. The fairness system gives anyone the chance to become a lucky owner of a great digital asset.
How to get free NFT tokens?
Developers of NFT projects organize airdrops of top NFT tokens not so rarely to attract new audiences. For example, Don Wonton from Avalance announces new airdrops on Twitter. To get free NFT tokens, you need to repost new promos and leave your Ethereum wallet in the comments.
Following the accounts of NFT developers is not the only way to hunt free coins. There is a chance to receive NFT on Coingecko. This website grants its users special bonus points every day the number of which is constantly growing. The platform places its own NFTs several times a month which can be bought for bonus points. In addition to NFT tokens, these points can be exchanged for souvenirs like T-shirts or notebooks. By the one, one of these coins was sold on OpenSea for 1,5 ETH.
Buy best NFT token
The non-fungible tokens list is quite long, since NFT projects are extremely popular in most industries, including NFT real estate.
According to Coinbase NFT, the top NFT token list by market capitalization includes:
THETA (Theta Network);
CHZ (Chiliz);
ENJ (Enjin Coin);
MANA (Decentraland);
OMI (ECOMI);
FLOW (Flow);
TLM (Alien Worlds);
AXS (Axie Infinity);
AUDIO (Audius);
RFOX (RedFOX Labs);
UOS (Ultra);
SUPER (SuperFarm).
This list of NFT tokens is not complete, since there are too many popular NFT projects. For example, staking MEME tokens is the way to unlock limited artworks and trading cards. SAND token released by Sandbox NFT is the in-game currency of the Sandbox universe. The B20 Metapurse allows sharing the ownership of The Beeple NFT 20 Collection. The PactSwap PACT token is one more new NFT project that is on the way to the top NFT coins list.