How much are the fees when the largest crypto exchanges list your token?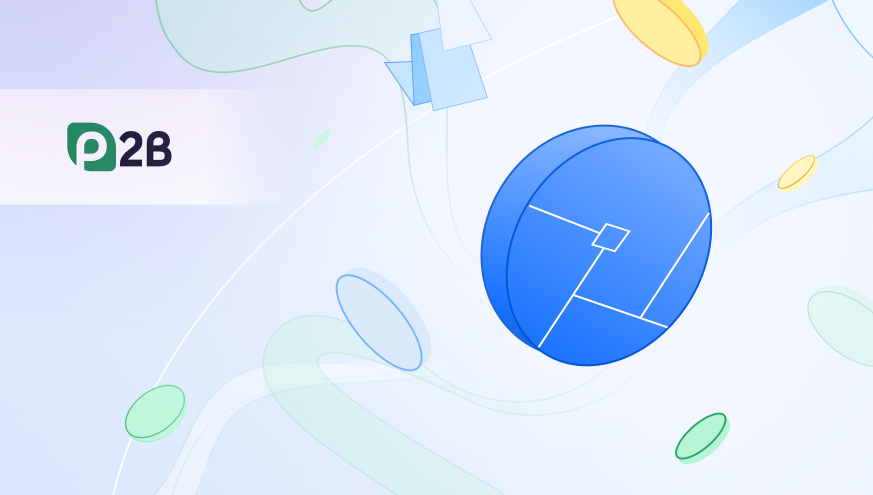 The largest crypto exchanges play a significant role in the crypto world. While the number of crypto exchanges grows daily and pressure on trading fees from decentralized exchanges and zero-fee trading platforms increases, some centralized exchanges charge high fees for listing a token or coin to make a profit. However, some of the exchanges don't charge fees for the listing. High fees often hinder listing a token or a coin, especially for young low-budget ICO-funded blockchain startups. So, let's consider what fees the biggest crypto exchanges charge for listing tokens or coins. 
What are the crypto exchange listing fees? 
The token listing fee refers to the exchange fee that a crypto project pays to list its token or coin on that or another crypto platform. Crypto exchange listing fees depend on different factors we will consider further in this article.
Some platforms charge flat crypto exchange listing fees for listing a token, while others charge a percentage of the total tokens or the value of the tokens listed on the platform. In addition, some crypto exchanges charge fees for additional services, including marketing and liquidity. 
Not all platforms charge crypto exchange listing fees and sometimes can offer discounts or refuse fees while making exceptions for certain projects or tokens that meet specific requirements. Crypto startups need to evaluate costs and profit from the listing of their token on the platform properly and investigate the exchange's policies and reputation before choosing a crypto exchange for listing.
How much does it cost when crypto exchanges list a token?
When it comes to cryptocurrency exchange rates, the majority of exchanges charge crypto fees. The price of the token/coin listing on the exchange depends on the crypto exchange's reputation, popularity, and size, providing additional services, including liquidity and marketing services, crypto exchange ranking, and more.
Let's consider what crypto exchange fees diverse platforms charge when listing tokens or coins:
Small exchanges can charge from $6,000 to $30,000, matching the abilities of most blockchain startups.

Medium-sized crypto exchanges charge from $60,000 to $300,000. There is a substantial jump in listing fees. When it comes to second-level exchanges, crypto exchange rates to list a token/ coin start from $60,000 and reach $300,000, which is a substantial amount for a startup raising less than one million during their token sale.

The most reputable and large-scale crypto exchanges with the largest trading volumes charge from $1 to $2.5 million for a token listing.
There is a list of crypto exchanges that don't charge fees when listing a token/ coin. However, it's more difficult to put in the listing list of such platforms since they choose crypto projects more attentively and consider the MVP (minimum viable product) that stands behind the project, the success of its realization, pre-marketing campaign, whitepaper, roadmap, a team of the crypto startup, the success of the previous projects designed by this team, and much more. 
How much does listing your token on the best crypto platforms cost?
Binance, a top crypto exchange, has not publically disclosed the exact prices to list a token. However, the platform donates all listing fees to Binance Charity Foundation, a 100% transparent charity tracked on the blockchain. 
Coinbase, one of the biggest crypto exchanges by volume, doesn't charge the listing fee initially but can charge fees in the future, depending on the volume of the submissions and related operational costs. Moreover, the blockchain exchange allows listing tokens without requiring an official listing request while considering its compliance with local regulations and market demand. 
The platform implements new token listings in four phases: transfer-only, post-only, limit-only, and full trading. Each stage is based on the degree of functionality the exchange provides to the particular token/ coin. 
List your token on P2B and get liquidity services
Which crypto exchange has the lowest fees?
When it comes to crypto transaction fees, among the crypto exchanges with lowest fees, we can emphasize Pionex, Bybit, Bitstamp, Binance, and PrimeXBT. 
Pionex is a crypto exchange offering 16 free in-built trading bots designed to cater to different trading strategies. The platform charges a 0.05% fee for a maker and a 0.05% fee for a taker.
Bybit is a crypto derivatives exchange providing a fair trading environment to trade futures with good leverage in BTC/USD, ETH/USD, XRP/USD, EOS/USD, and BTC/USDT perpetual contracts. On Bybit, for spot trading, the maker fee rate is 0% & the taker fee rate is 0.1%.
Bitstamp is a crypto exchange founded in 2011, making it one of the first places to buy and exchange Bitcoin. If you want to know the answer: "How much does it cost to buy Bitcoin?", visit this crypto exchange. Bitstamp charges from 0.05% to 0.0% spot trading fees plus 1.5% to 5% when depositing real-world currencies, depending on the deposit method.
Binance is one of the most popular crypto exchanges worldwide designed for experienced crypto investors. It charges 0.0750% to 0.0525% maker fees and 0.075% to 0.0525% taker fees.
PrimeXBT is an online exchange supporting the trading of cryptos, commodities, forex, and stock indices. The platform charges 0.05% for cryptocurrencies, 0.01% for indices & commodities, 0.001% for Forex majors, etc.
Exchanges with the lowest transaction fees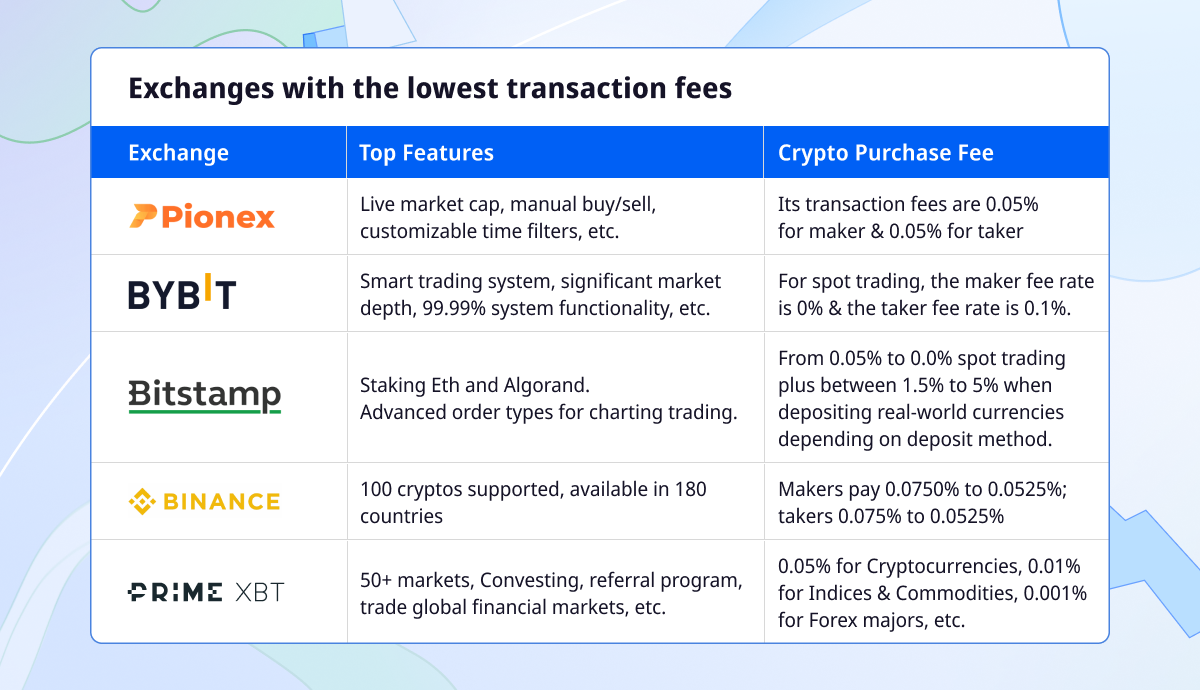 In conclusion, when listing your token on the exchange, you must meet all the requirements of the popular large-scale crypto exchanges without charging crypto exchange listing fees, including Coinbase, or choose another less popular crypto exchange providing additional marketing and liquidity services to boost your young project on the crypto market.
Choose P2B to list your token and get full-cycle support