How to gain efficiency of crypto launchpad?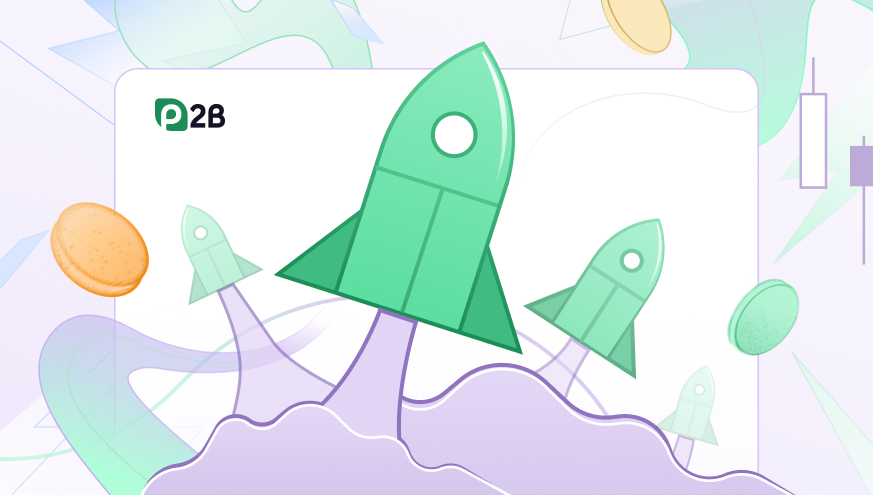 Do you want to determine how to achieve efficiency while launching your new crypto project? If you want to involve new investors to your project, you should develop a well-thought marketing strategy. Without an effective marketing strategy, a lot of newly-launched crypto projects fail or just become scams. Before exploring how to make your crypto launchpad effective and create a well-designed marketing strategy, let's consider what's a crypto launchpad and how to use it for your crypto projects. 
What is a crypto launchpad? 
Crypto launchpads are incubators for innovative blockchain-based and crypto projects that have launched. These platforms allow investors to become early adopters of successful crypto projects while offering a strong marketing strategy to promote projects. Crypto launchpads expose newly-launched projects to direct funding due to investors' participation in token sales. 
What makes a crypto launchpad attractive for investors is no cost for applying the platform. For crypto projects' founders, the price of the crypto launch on the launchpad platform depends on a list of factors, including the popularity and reputability of the platform, security level, the number of available blockchains, additional services, and much more. The more reputable and popular the launchpad platform, the higher the cost of the launchpad is. In addition, well-known and reputable platforms, including Binance, have strict selection criteria for crypto projects applying for a launchpad. Crypto projects undergo rigorous scrutiny before being accepted on the platform.
The scrutiny helps eliminate scam projects and projects that might rug-pull later from the platform. It provides additional security for investors. The investment costs on launchpads are low because IEO/IDO sell tokens at low prices. So, crypto launchpads are considered fundraising platforms for crypto projects.
On platforms, investors have access to tokens for lower prices than prices settled for tokens after listing on the exchanges. Investors can profit while purchasing tokens during an IEO/IDO on the crypto launchpads. Crypto launchpads can boast an efficiently transparent and secure infrastructure. Launchpads expose founders to crypto communities and investors who will contribute to the growth of their crypto projects.
Why is a crypto launchpad an important investment tool?
Now you will get to know what a crypto launchpad is. Let's consider why a crypto launchpad is a useful tool for crypto projects. We will discover how launchpads serve startups and investors and impact the ecosystem. 
The essential reasons why a launchpad has become an essential tool are the following:
Crypto project optimization 
It takes a certain amount of funds to list your crypto project on reputable platforms exposing them to potential investors. It can limit startup founders while they launch a crypto project. However, a launchpad is an effective tool for raising the efficiency of crypto project optimization. 
While launching an IEO/IDO on the most reputable and popular crypto projects, including Binance, can be very costly for newly-launched crypto projects. Moreover, as mentioned above, reputable platforms require a list of characteristics for a crypto project to meet and offer high selection criteria. Therefore, young startups should pay attention to blockchain platforms, including the P2B exchange, without strict selection criteria. 
Moreover, crypto platforms offer startups a list of additional services, including a strong marketing strategy, SMM strategy, market making, and liquidity services, community building, and other tools to promote a project among reputable investors. 
Looking for the best crypto launchpad for your project?
Access to a global investor ecosystem
Sometimes, access to involving international investors with a high interest in a crypto project might be restricted. This can occur because of payment barriers or international laws. Crypto launchpads overcome barriers and allow newly-launched projects to involve new investors worldwide when you list your crypto projects on launchpads.
Crypto launchpads belong to a decentralized ecosystem. They are built on blockchain technology while helping to eliminate international payment barriers. Investors need to be launchpad members to participate in token sales.
Funds and project security
Potential investors can be scared by engaging in crypto projects because of many scams in the industry. One of the scam schemes popular in this field is the rug-pull scam, wherein investors' funds vanish, and founders of crypto projects just disappear without implementing their idea and producing a service or product. 
On reputable platforms, a crypto project undergoes a thorough verification process. This process ensures the legitimacy of the crypto project and financial security. The verification process allows founders and investors to be protected. 
Notable that launchpads don't hold investors' funds and don't use them for the needs of the platform. Therefore, investors control their funds. Launchpads just access their money while linking them to the crypto wallets.
Early-stage investment
One of the essential features of the launchpads is that investors want to profit from investing in diverse crypto projects. Participating in an IDO/IEO, investors have access to early phases. Therefore, they purchase tokens for affordable prices, lower than when the crypto project becomes public. This is the first reason why investors are searching for crypto launchpads. 
Crypto project crowdfunding
Any business should develop in every phase to bring efficiency to business operations. Therefore, it's very important for businesses to have access to financing at the early stages of development.
Crypto launchpads have become an innovative alternative for founders to raise money to develop their projects. As a result, crypto projects will develop and get expansion on the markets while providing project success. Very often, launchpads offer additional marketing and promotion services to promote a crypto project before listing on the exchange.
Token appreciation and profitability
Another essential reason investors pay attention to crypto launchpads is to enhance their profit by having early access to affordable tokens. Early access allows investors to profit more after the project launch and token price growth. Investors benefit from this possibility and use it as a determinant to invest money into enlisted crypto projects on launchpads.
Community Building
Crypto community building plays a crucial role. When a crypto project has access to a vast crypto community, this allows involving new investors in an IDO/ IEO. Community building is the core of the project's sustainability. 
Crypto launchpads enable newly-launched crypto projects to get access to a vast community. Community building gives investors a feeling of security and protection when potential investors choose a project to put their money into. With a community, a crypto startup can build loyalty for its project.
Launchpads are an effective tool for founders of projects to build a trustworthy community and enhance word-of-mouth marketing for crypto projects. Via a crypto community, founders can announce the latest updates in the development of the crypto project, discuss the projects' fears and ensure active participation from the investors.
Therefore, community building is an important stage in launching IEO/IDO. Reputable crypto platforms provide newly-launched crypto projects with access to a vast community. 
How to make your launchpad effective? 
You should follow a list of tips to make your crypto launchpad effective and attractive to potential investors. You will find out how to gain success while launching an IEO/IDO on the blockchain platform. 
The first you need to do is to design an MVP (minimum viable product). If you have a naked idea without a plan for its implementation, reputable crypto launchpads won't pay attention to your application. To require a list of selection criteria, you need to offer an MVP. Moreover, without a minimum viable product, investors can consider your crypto launchpad a scam. After applying for the exchange, a reputable platform can check whether your team has progressed in the implementation of your idea or not.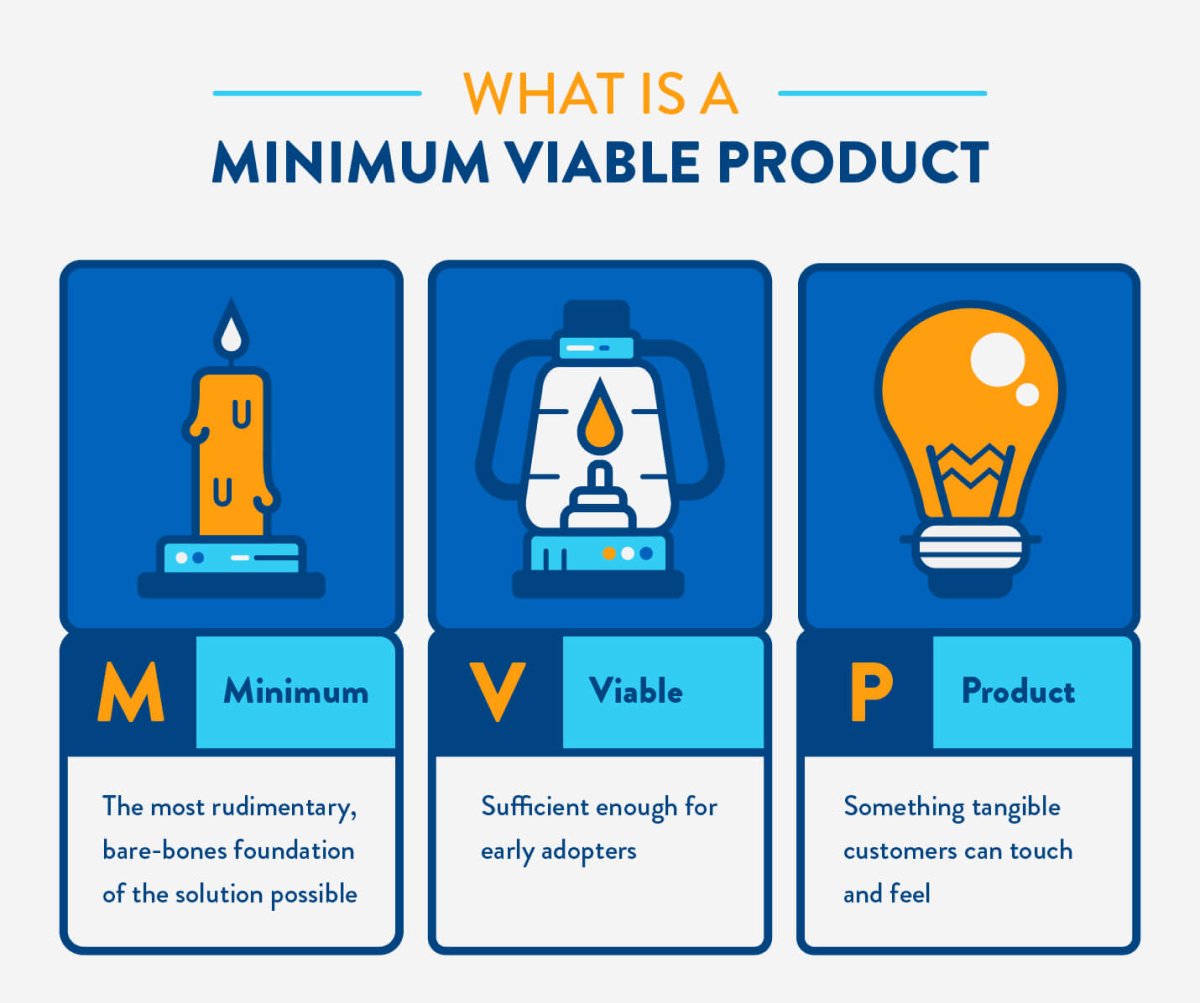 Source: CleverTap
Creating a reputable team
Creating a reputable team and detailed roadmap is one of the most important steps to gaining success for your crypto launchpad. A team with competent knowledge of IEO and the blockchain ecosystem can ensure you create and implement your project idea effectively. Therefore, involving experienced professionals with a great reputation in your team is very important. 
The reputation and previous experience of the team members are the first that crypto platforms check while considering an application for a crypto launchpad. If one of your team members has a negative experience participating in scam projects, your new crypto project can fail while applying for a crypto launchpad. Experienced team members can make investors show more interest in your crypto launchpad since they prefer crypto projects that are backed by a team.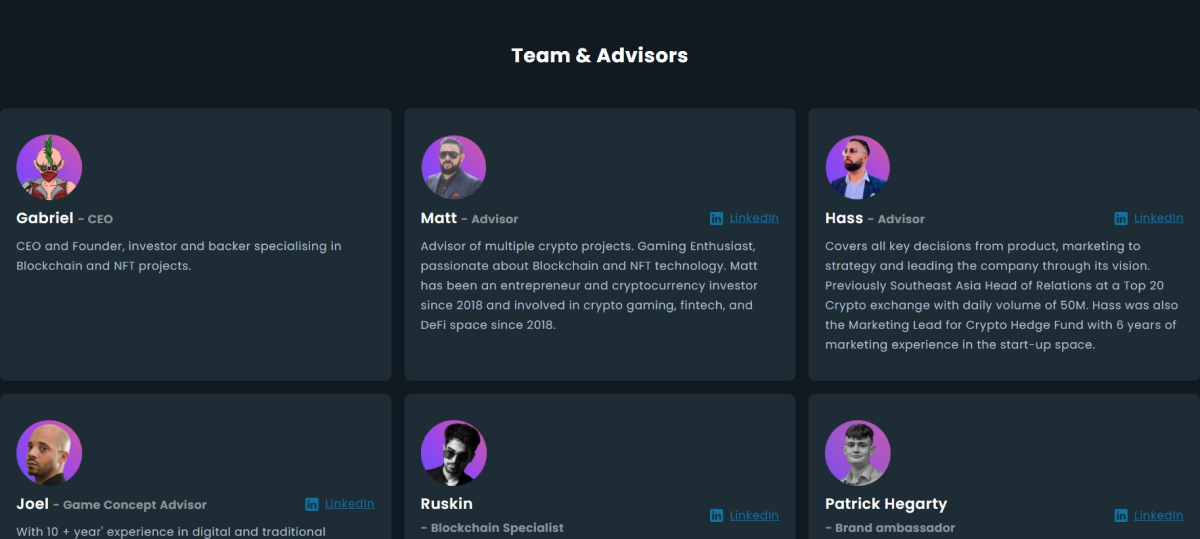 Source: Memag.io
Creating a detailed white paper and developing a crypto project roadmap 
One of the essential stages to gaining success in your crypto launchpad is drafting a white paper. A whitepaper is a comprehensive document containing important information about a team, the team members' previous experience, MVP, marketing strategy, a detailed roadmap with the main purposes and stages of the project implementation, the practical value of the crypto project, and much more. It covers everything from your crypto project's objective to market analysis, development strategy, token information, and much more. In addition, it's very important to design a step-by-step roadmap with dates for each stage's implementation. If you have a transparent and strict roadmap, it builds investors' trust. 
An IEO white paper and detailed roadmap help investors have clarity of a crypto project in the long-term perspective and decide whether it's worth investing in a project or not. A well-designed whitepaper acts as your sales pitch and adds value to your business.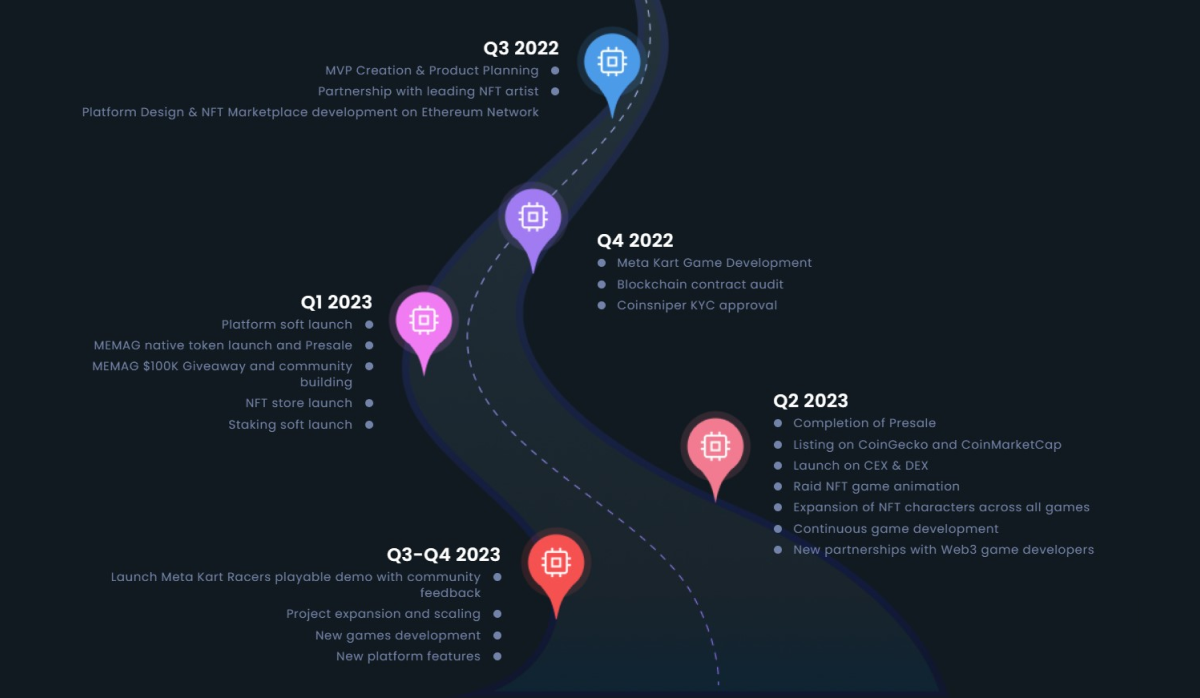 Source: Memag.io
Developing an effective marketing strategy
A well-designed marketing strategy helps you attract new investors to your crypto launchpad. Marketing is fuel pushing up your project ahead. While having a well-designed marketing strategy, an IEO/ IDO will raise the necessary funds to work on a crypto project development. So, how to design an effective marketing strategy?
Some crypto launchpads offer additional marketing and promotion services to boost crypto projects. For instance, the P2B exchange offers its customers a well-designed pre-IEO promotion campaign, including external IEO community promotion, building a strong community, custom Email campaigns, and arranging AMA sessions.
All these marketing tools provided by P2B ensure your token's rising popularity and the crypto launchpad's success. 
Do you want to get effective marketing support for your crypto project?
Developing SMM strategy 
SMM strategy is part of a marketing strategy. A well-designed and comprehensive SMM strategy among verified influencers will help boost your crypto project's online presence and reach. Verified influencers use diverse social media all over the world. A lot of these verified influencers can become potential investors. Therefore, creating a distinctive brand image and being active on social media can convert these prospects into investors. 
Even though thousands of verified influencers are interested in joining the crypto movement, they can't do this since there is a big disconnect between crypto startups and users. Therefore, building a strong SMM strategy to involve new investors among verified influencers is very important. An SMM strategy plays a significant role regarding general social networks, including Facebook or Twitter, and special social networks building a crypto community, including Bitcointalk. 

Source: Bitcointalk
Establishing a clear funding purpose
One more essential step while launching an IEO is setting up a clear funding goal. If you don't have a clear funding goal, you won't be able to determine how many tokens must be sold in the IEO sales before listing on the crypto platform to get the right outcomes. It also prevents your crypto project from falling into a scam. 
In addition, the transparency of the required budget to launch an IEO provides confidence that you focus on a practical purpose, making investors more interested in investing in your crypto project. 
Why should you choose P2B for your crypto launchpad?
The P2B platform offers full-cycle support for projects during a crypto launchpad. 
A crypto launchpad on P2B includes several stages:
Internal pre-IEO promotion campaign for P2B users
The platform offers a marketing strategy that includes a chain of announcements via official channels for verified influencers on Facebook, Twitter, Telegram, and the exchange's blog. Generally, the crypto community includes 300K+ active followers. In addition, all verified users of the crypto exchange receive a custom email campaign about a crypto project and the start of its IEO session. This contributes to crypto community building.
        2. Pre-IEO promotion campaign for the external crypto community
The P2B team arranges a massive promotion campaign for the external crypto community involving new subscribers on social networks and promoting a crypto project via verified influencers. This also belongs to the marketing strategy. 
        3. AMA sessions 
The P2B SMM strategy includes AMA sessions. The P2B team arranges an "Ask-Me-Anything" event with a project's team in the official P2B Telegram group, where potential investors from the community can learn more about the crypto project.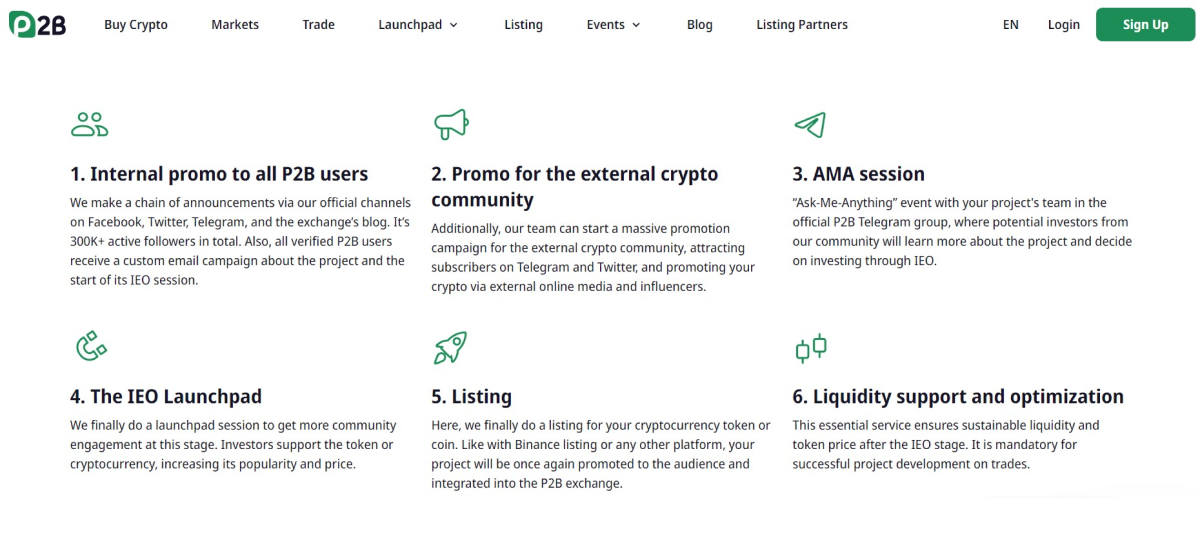 Source: P2B Official Page
        4. IEO launchpad
At this stage, an IEO of the crypto project is launched on the P2B platform to get more community engagement when investors can buy a token for an initial price. 
         5. Listing 
Listing is a very important stage for crypto projects. At this stage, a token of the crypto project is listed on the P2B exchange. A crypto project will be promoted again to the audience and integrated into the P2B platform.
         6. Market making and liquidity support
P2B offers its customers additional services, including market making and liquidity services that allow crypto projects to enhance their liquidity and provide price protection after the IEO stage. 
Do you want to launch IEO and get full-cycle support?