How to choose a safe platform among myriads of cryptocurrency exchanges?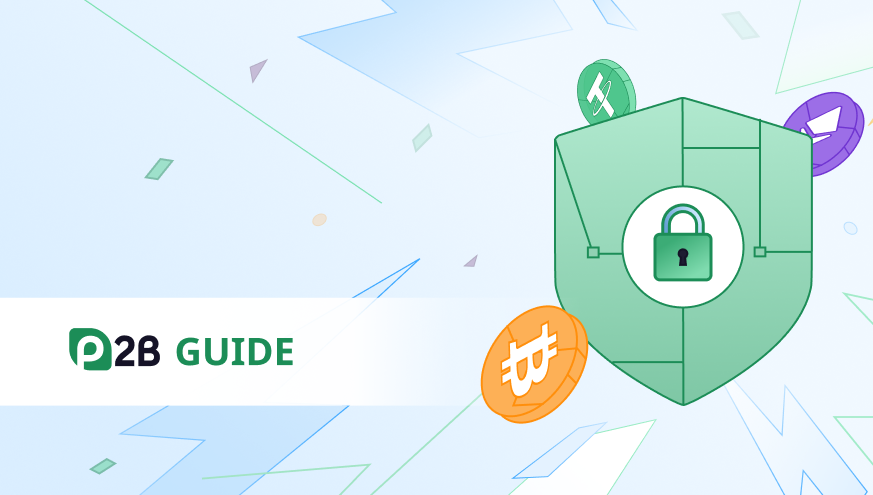 In this short guideline, you will get answers to questions, "How safe is cryptocurrency?", "How safe is cryptocurrency trading?", "Are crypto wallets safe?", "Can you lose crypto on exchange?" and much more. You will find out what are the safest crypto exchanges worldwide, which types of wallets there are, and where to store your digital assets better—in the wallet or on the crypto exchange.
Is crypto safe?
There are different ways to store cryptocurrencies, including crypto exchanges and wallets. An exchange is one of the most widespread ways to store your cryptocurrency. Let's consider its benefits and drawbacks.
You face some risk when storing your digital assets at a crypto exchange. Sometimes, customers discover that their cryptocurrency has gone completely or indefinitely locked up in bankruptcy proceedings. While using a cryptocurrency exchange, you need to remember that if somebody has access to your keys, somebody has access to your coins.
Can you lose crypto on exchange?
When depositing crypto assets in your account on a crypto exchange, the exchange controls your crypto assets. Crypto exchanges very often become targets of hackers. Therefore, you can lose your crypto assets when a crypto exchange is hacked. For instance, in 2014, fraudsters hacked Mt. Gox, the largest exchange worldwide, while stealing hundreds of millions of dollars. In 2022, the crypto exchange Crypto.com was hacked for $35 million.
The risk you face when depositing your crypto assets on the exchange decreases when the crypto exchange is healthy and provides proper controls. Therefore, choosing safe crypto exchanges to store digital assets is very important.
How do I know if my crypto exchange is safe?
We will review the most significant factors demonstrating the high-level security of the crypto exchange. You can become a victim of another hacking attack. However, choosing a reputable and highly secure exchange will significantly decrease the chances of being hacked.
The most reputable and popular crypto exchanges announce their security level and provide customers with various tools to secure their accounts. Here, you will discover the most significant security factors you must pay attention to when choosing an exchange. So, is crypto currency safe to store on the exchanges?
Is crypto safe to invest in on the exchange?
There are the most significant factors demonstrating the exchange's security:
Secure password. When setting up a password, a crypto exchange asks you to use a combination of regular and capital letters, symbols, and numbers while ensuring that no one can hack your account.
Two-Factor Authentication (2FA). Most exchanges offer multiple 2FA methods, including software, SMS, and hardware devices. If the platform doesn't offer you to secure your account with 2FA, this crypto exchange isn't so secure. In addition, hackers can counterfeit your phone number, so the weakest form of 2FA is SMS authentication. It's better to avoid this format of authentication. In most cases, crypto exchanges offer two-factor authentication via Google Authenticator. It's an easy-to-use and effective way to protect crypto assets from hackers and fraudsters.
Storing crypto assets in cold wallets. This is the most secure and reliable way to store your crypto assets. Before choosing a crypto exchange, check whether the exchange uses cold storage to store the customer's assets. Stealing funds stored offline is much more difficult than assets stored in hot wallets.
Ability to Whitelist IP & Withdrawal Addresses. While choosing a crypto exchange, check whether you can connect specific IP addresses to your exchange account. If enabled, it automatically blocks logins from other locations. If you add some IP and withdrawal addresses to the whitelist, the platform will allow your assets to be withdrawn only to the previously approved addresses.
Other precautions. Exchanges use other security tools, including suspicious behavior alerts, multi-signatures, email encryption, phishing protection, etc. Extra security measures will provide your account with additional security. As long as these tools are well implemented, they make crypto exchanges safe temporary storage for your crypto assets.
Funds Insurance. Crypto assets are still unregulated in most countries. Therefore, most exchanges don't need to follow FDIC (Federal Deposit Insurance Corporation) reporting regulations or securities investor protection procedures. Some exchanges take extra precautions and ensure their assets from hacking. Although this is a good marketing move, most insurance policies don't protect individual accounts.
Top-5 the safest crypto exchanges
We have selected Top-5 the safest crypto exchanges for you.
Coinbase
Coinbase is one of the most large-scale cryptocurrency exchanges worldwide and has one of the best reputations for security. Around 99% of crypto assets are stored in safe crypto wallets. Moreover, the crypto exchange requires validating the user's phone number by entering a code the platform sends a customer via a text message.
Coinbase can boast mandatory two-factor authentication (2FA) on the account while ensuring high security. In addition, Coinbase is also a publicly traded company undergoing extra financial and security examinations to reach that status. After removing an account, the platform allows users to request the information they provided to Coinbase in the first place. Moreover, you can also request deleting the information from their servers. Coinbase gets extra points for properly handling and discarding users' personal information.
Gemini
Gemini takes second place in security worldwide. It's a trustworthy New York company that undergoes regular bank exams and is regulated by the New York Department of Financial Services.
This is the first crypto exchange and custodian to complete a SOC 1 Type 2 exam, SOC 2 Type 2 exam, and get an ISO 27001 certification.
SOC 1 tests the design and implementation of Gemini's financial operations and reporting controls, while SOC 2 evaluates its security, availability, and confidentiality controls.
Most exchange users store their crypto assets in the safe crypto wallet offline in an air-gapped cold storage system. A small amount is stored in a hot wallet for transactions, but this amount is also insured. Moreover, the exchange uses two-factor authentication (2FA) and hardware security keys.
Kraken
Kraken is one of the most well-ssecured crypto platforms worldwide. If you want to find out how to keep crypto safe, pay attention to Kraken. This platform complies with financial regulations for the US, Canada, Australia, the UK, and more. It has worked since 2011 and has never been hacked since that time. The platform can boast a dedicated security team. Its servers are under 24/7 surveillance by armed guards and video monitors.
Crypto exchange customers keep 95% of deposits in offline, air-gapped storage while keeping full reserves so they can withdraw crypto assets anytime. The crypto exchange conducts penetration testing, which means they attack their systems to find weaknesses. In addition, the crypto exchange has arranged bounty campaigns to reward the crypto community members for finding problems in the exchange's security. Moreover, Kraker offers 2FA for its users.
Binance
Binance is also among the safest and most popular crypto exchanges worldwide. This is one of the biggest crypto exchanges according to trading volume. Binance maintains the Secure Asset Fund for Users (SAFU), which is designed to protect customers when the exchange is hacked. The exchange demonstrates its proof of reserves covering all the customers' deposits.
Binance positions itself as one of the safest exchanges worldwide. However, we need to remind you that it was hacked for more than $40 million in 2019. After the money was stolen, all crypto exchange users' looses were covered. After this case, the crypto exchange has improved its security tools and kept its wallets safe from unauthorized access.
P2B
P2B is one of the most reliable crypto exchanges worldwide. According to the Сer.live rating, one of the most reliable independent crypto rating sources, the security rating of the platform is AA, with an 88.30% security score.
The P2B exchange is fully certified. Cer.live emphasizes an approved penetration test, ongoing bug bounty, and untouchable funds principle that belong to the most significant security factors.
List Your Token On One of Safest Exchanges Worldwide
Is staking crypto safe?
As with most trading-related questions, there isn't a clear-cut answer since there are a huge number of factors impacting this question. Generally speaking, staking cryptocurrencies is a great way to get passive income.
To get an answer to the question: "Is crypto staking safe?" you just need to pay attention to the overall security of the network on which you are staking your crypto assets. In addition, you should evaluate the reputation of the validator to whom you are sending your stake. If you store your cryptocurrency on a CEX (centralized exchange), including Binance, there is a risk that the platform can be hacked, and fraudsters will steal your cryptocurrency. Store your cryptocurrency in a cold wallet to decrease this risk rather than on the crypto exchange.