European Blockchain Convention 2023: How P2B Contributes to Crypto Ecosystem Development
European Blockchain Convention 2023: How P2B Contributes to Crypto Ecosystem Development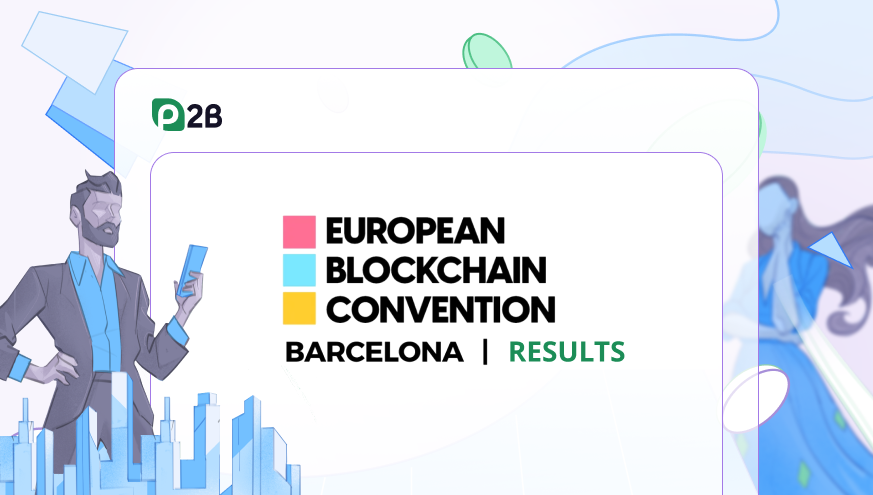 We hurry up to inform you that our P2B team popped up at the European Blockchain Convention 2023, held in Barcelona on Feb 15-17. We want to share some insights regarding personal conversations and new contacts we've established during the conference that you'll never find elsewhere.
People of crypto we've met
We have communicated with influencers, conference speakers, and experts in the cryptocurrency field and shared our visions, expertise, and insights. Therefore, we discovered a need for more information about the new project's entry into the market and implementation of their missions. We filled this lacuna by communicating with newly launched projects, listing partners, and everybody interested in this topic. 
P2B introduces partners
—
promotion and liquidity startups
As an exchange, we are working on building a favorable environment for new-launched crypto projects' development at the first stages, including promotion and increasing liquidity. 
For the first time, we visited the conference with our reliable partners, including PromoJ and LiquidLines, the most promising companies in the crypto projects' promotion and advanced liquidity services. They were involved in discussing the difficulties crypto startups face and explained how to avoid making mistakes to the audience.
The P2B team interacted with leading trading and business experts, brand ambassadors, sales team representatives, and listing experts worldwide. We were delighted to meet our online partners and customers face to face. 
Personal emotions regarding European Blockchain Convention
Communication and sharing experiences and emotions are the most important and pleasant for our team at conferences! We are sure that only direct communication and sharing our challenges-solving techniques personally can bear fruit in any field.

Thanks to the communication with conference participants, we reimagined the future productive collaboration formats with newly launched crypto startups. In addition, we had an excellent opportunity to meet with other market players, exchanges' representatives, media, and consultants to compare our vision of the market's development and how we can collaborate.
"Young crypto projects need more expert information to take the first steps on the market more confidently. Thus, for our part, we help to improve the resilience of such projects by providing them with high-quality expertise.
We are developing the ecosystem of entry into the crypto market, uniting top-grade service-provider partners around the exchange. Both our team and our partners are focused on sharing in-depth niche expertise and helping crypto startups to develop further, avoiding typical mistakes", — Anastasia Manina, Chief Brand Officer at P2B Crypto Exchange.
For the conference in Barcelona, P2B listing experts have prepared valuable market insights regarding the 2000+ newly listed projects from the top 100 CMC rating and included them in the special white paper, the Crypto Projects' Listing Research. You can also review the results of our market investigation by following the link above. 
We are delighted that participating in this conference has become one more significant step to implementing our mission — facilitating the entrance to the mature crypto market.