What is IMX Token?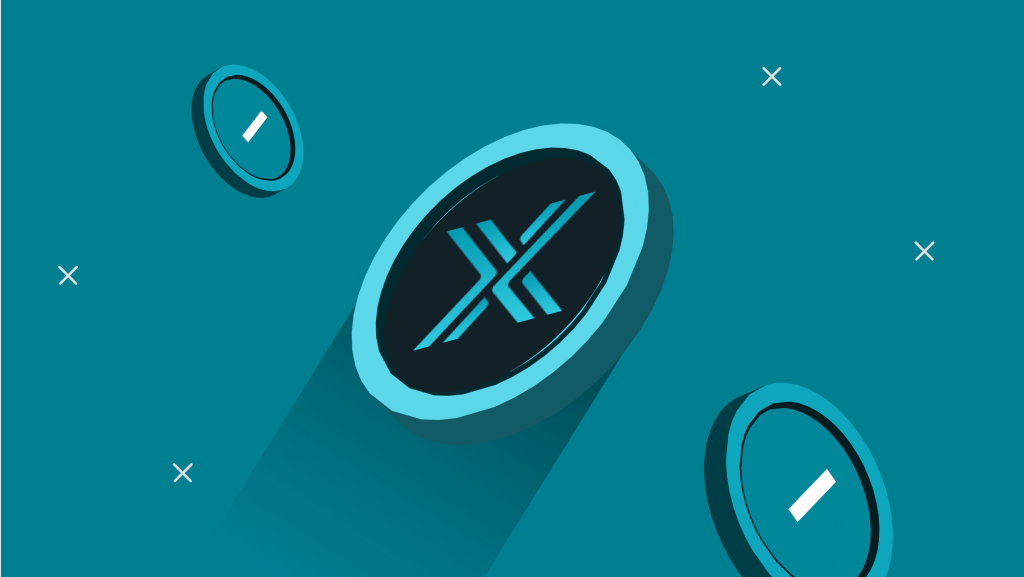 With non-fungible tokens, or NFTs, taking over the blockchain industry, the demand for new exchange platforms trading NFT tokens and expansion of NFT projects grows.
The Immutable X project is an open window to the spot trading of non-fungible tokens, or NFTs, world ‒ quite literally. The Immutable X project provides users with an NFT minting and trading platform and hosts an NFT game development studio, expanding the possibilities for this technology. These benefits are what NFT artists, content developers, and crypto traders are looking for new promising investments and crypto assets to buy.
You can call the Immutable X project the first-ever layer two scaling solution for NFT projects on Ethereum (ETH). Zero gas fees, fast and easy spot trading, and complete user security make the Immutable X project the most advanced NFT minting and exchange and trading platform. The Immutable X project aims to simplify the user experience while trading NFTs ‒ it improves Ethereum (ETH) scalability. It makes staking, minting, and trading of non-fungible tokens easier and more secure.
The Immutable X project also has its utility token to trade ‒ Immutable X or IMX crypto tokens. It's used to reward platform users for their activity and to keep the blockchain exchange platform running.
If you are interested in non-fungible tokens (NFTs) and their trading system, Immutable X is a great place to start. Also, the platform includes NFT-based video games ‒ there was nothing alike before Immutable X emerged in 2018.
What is the Immutable X crypto token (IMX)? 
As stated before, Immutable X was introduced in 2018 as an exchange platform for instant transaction confirmations, spot trading, and zero gas fees for trading and minting non-fungible tokens (NFTs). Immutable X allows users to create Ethereum-based (ETH) ERC-20 and ERC-721 tokens affordably, and trade them with their assets' security intact.
Here is where the Immutable X token (IMX) comes in. The IMX crypto token is also based on the Ethereum (ETH) ERC-20 blockchain technology ‒ it's a utility token created to back the ecosystem of the project and reward users for their activities on the Immutable X exchange platform ‒ for example, for voting and spot trading. IMX is a crypto utility token that can be used as a transaction means between gamers, NFT artists, traders, spot traders, and back crypto transactions within the network while providing A+ security based on Ethereum (ETH) technology.
The total IMX token supply is two billion tokens, with 235 million pushed into circulation. The market capitalization of the Immutable X (IMX) crypto token reached $225 million, and the token's price is flowing around the point of $1 as of now (11.07.2022), with price fluctuations up to $3 per 1 IMX crypto token ‒ just like with Bitcoin (BTC) and Ethereum (ETH), Immutable X token heavily depends on the situation on the crypto market, and price predictions don't guarantee any exact numbers.
Also, being an utility token, Immutable X (IMX) crypto token is a vital part of the functioning community of the Immutable X project ‒ both the exchange platform and a marketplace. Using Immutable X (IMX) crypto tokens, users can vote for important Immutable X project decisions and other proposals within the exchange platform. The more Immutable X (IMX) crypto tokens a certain user chooses to buy, the more his voting voice matters for the Immutable X project team and the community.
Immutable X marketplace
The Immutable X marketplace is a large Ethereum-based (ETH) marketplace for various NFT products to buy and sell:
NFT art;

NFT play-to-earn games and projects;

VR spaces;

collectibles and trading cards.
The Immutable X marketplace is unique in terms of crypto-asset security of traders who want to buy NFT and the speed of crypto transactions ‒ mostly due to the use of the REST API that breaks down difficult blockchain transactions into smaller blocks, significantly improving the speed of every crypto transaction. Also, this feature allows you to create and trade NFTs without engaging directly with smart contracts, unlike with some Bitcoin and Ethereum (ETH) projects. Developers can notice the significance of this marketplace ecosystem: the crypto exchange platform allows them to integrate third-party wallets and APIs into their platforms to build their NFT projects based on Immutable X. If before an NFT project development and all the preparations took weeks, with Immutable X protocol it should take a few hours.
The Immutable X marketplace is not isolated from the global NFT community ‒ on the contrary, it aims to create a global order book. With that in mind, NFTs can be bought on any crypto exchange platform or NFT crypto marketplace with the use of Immutable X scaling solutions ‒ just like you can buy Bitcoin (BTC) on any exchange platform now. A large part of this facilitation exists due to the support of most if not all desktop Ethereum (ETH) wallets. This feature provides Immutable X users with borderless transactions independent of which network stores their assets.
Also, Immutable X NFTs are really easy to make ‒ thanks to one of the first project's blockchain games, the Immutable X crypto project's team has a huge experience in minting non-fungible tokens. With the experience of minting up to 20 million NFTs in just three days, you can say that the Immutable X team supports the fast creation and distribution of NFT tokens.
Other benefits for NFT developers on the Immutable X marketplace include little to non-existing gas fees and the almost infallible security of the Ethereum ecosystem (ETH). This kind of scalability allows the development of NFTs in a faster and more secure way.
Due to the Ethereum (ETH) scalability feature, the Immutable X crypto token marketplace and the crypto exchange platform itself can be easily integrated with other crypto projects based on Ethereum (ETH), Bitcoin, and another blockchain tech ‒ the project has its software development kits. This way developers creating NFTs on the Immutable X platform will be able to use it on other crypto exchange platforms thanks to the easy access to the Immutable X project's code. Also, the use of the DApps Ethereum (ETH) protocol makes every project created on the platform easily compatible with every other decentralized application, so the predictions of this project becoming the biggest one of its kind might be real.
Having the big token development and distribution potential, the Immutable X platform is an eco-friendly one, producing little to no carbon emissions, even with a large-scale NFT minting support.
The advantages of the IMX token
The Immutable X (IMX) token is used both as a governance and utility token on the Immutable X exchange platform and within the network in general ‒ just like with ETH and Bitcoin projects. Being the native token to the platform, the Immutable X (IMX) token supports NFT usage on a mass adoption scale and provides the crypto ecosystem of the exchange platform with liquidity.
The main benefits of possessing Immutable X (IMX) tokens include:
Transaction fees. By holding a part of the Immutable X liquidity pool in the form of crypto tokens, the transaction fee for every transaction uses Immutable X tokens (IMX) as a conductor. Thus every Immutable X (IMX) holder controls the crypto exchange platform's transaction capacity.

IMX-rewarded staking. Every Immutable X (IMX) holder improves the network's ETH-based security by participating in the staking program. It works like this: Immutable X (IMX) tokens from the transaction fees (see above) complete the staking rewards pool and then get distributed among the staking program participants monthly.

Governance right. Every Immutable X (IMX) token holder has the right to participate in the network decisions ‒ crypto exchange platform users can vote for them, and their voice power relies on the number of Immutable X (IMX) tokens they possess. What it means is that the tightly-knit and active community is motivated to be a participant in the project's life. Again, this is the best solution for ETH-based platforms.
And just like with any other crypto asset like ETH or even Bitcoin, Immutable X (IMX) can be a good long-time investment depending on the project's activity and market conditions. Also, if you are interested in collecting NFTs and other crypto collectibles based on blockchain, the Immutable X token (IMX) will help you get a better insight into the industry by participating in the exchange platform's activities ‒ also, you'll get more accurate predictions of the project.
Immutable X token price forecast
Just like with any other price predictions ‒ for Bitcoin, Ethereum, and any altcoin, analysts have opposing opinions on the Immutable X (IMX) price for the upcoming years of crypto investing. With a current Immutable X crypto token price (as of 11.07.2022) of $0.9, the crypto coin has predictions to both multiply and reduce its price. 
The most optimistic analysis data states that by 2025 1 IMX token will cost $5.40 on average, and $32.30 by 2032. Some other crypto experts expect less progressive growth with a prediction of $4.15 for 1 IMX by the year 2030. Considering the big crypto market's falls in December 2021 and April 2022, this kind of price prediction seems to be rather careful.
Sure, the IMX token price might grow slower, or on the contrary, multiply by a hundred ‒ all these predictions depend on the project development's success. This is particularly why it is always better to rely on your observations as well as professional analysis before making any decisions regarding purchasing IMX or other crypto tokens based on available predictions. 
This block shouldn't be used as a direct investing instruction in crypto, though ‒ instead, use all the predictions as a reference to the possible IMX price fluctuations and always check with other crypto prediction sources on different crypto exchange platforms. Remember that crypto investing, just like any other financial procedure, is somewhat a risk.
Is IMX a good investment?
Despite being at its early stage of development, the Immutable X project as well as the IMX token shows a lot of perspectives. The IMX project's team still has a lot of new features to introduce, meaning the potential of both the platform and the IMX token has every chance to grow.
If the team continues attracting more NFTs and game developers to the exchange platform, Immutable X might become one of the biggest ETH-based exchange platforms for NFTs and play-to-earn projects. If you're interested in this project, you can buy a small number of tokens just to get the taste of it ‒ although it's always better to make every investment decision based on a deep analysis and multiple different predictions rather than just your curiosity.
However, the NFT and crypto markets are very volatile by default, as you can see from the BTC and ETH price fluctuations ‒ with that in mind, your decisions to invest in this project should be based only on technical analysis and detailed research as well as on multiple price predictions. We advise you to do your research before making any serious investing decisions, especially if they involve a lot of your crypto and financial assets regardless of if it's your ETH, BTC, or altcoin assets.
Final thoughts
The Immutable X looks like a project with nice predictions that already has a well-developed network of the marketplace, an exchange platform, and a toolkit for NFT developers. The IMX project's team is active and consistently works on adding new features and enhancing already implied ones, meaning there's more to come for this project.
Having an active and growing community, Immutable X (IMX) can succeed both as an NFT marketplace and an exchange platform. Moreover, it creates a few grand and unique solutions for blockchain-based developers. Positive predictions dominate the field here, but we advise you to do your research and try to figure out your technical predictions.
Read more articles in Projects Overview