TOP 15 Crypto Marketing Channels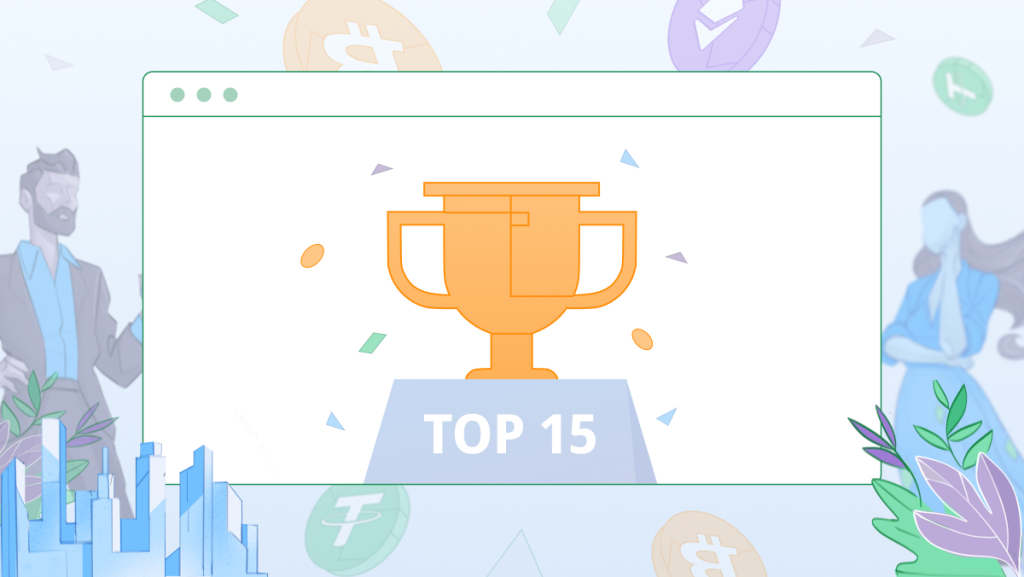 Intro
The pace of development of the crypto industry is staggering. More and more people are involved in crypto realms, becoming investors, trading on exchanges, or founding their projects. If before the appearance of a new crypto project was an event, now it is sometimes difficult to keep track. Blockchain has moved from the category of innovative to the category of everyday technology. This has led to the level of competition in this market has become incredibly tough, hence the need for crypto marketing. In this sense, the crypto industry has become similar to any market. Its creators must find their audience, attract it, retain it, analyze their competitors, and show their advantages over the competition.

In this article, we will talk about the top crypto marketing channels which will help your project to develop and define hundreds of other projects.
#1 Website
In today's world, a website is the bread and butter among crypto marketing channels. Your business or project doesn't exist online if you don't have a website or at least a landing page. Why is a website so essential for cryptocurrency marketing? First, it is the place where you attract a target audience that will want to support your project. A good website is a presentation of your progeny that you can show to a potential investor at a chance meeting. After all, there are not one or even two such stories when startups have found angel investors over a cup of coffee. On the site, you can visually tell your project's idea, mission, uniqueness, and advantages and visually show its development roadmap.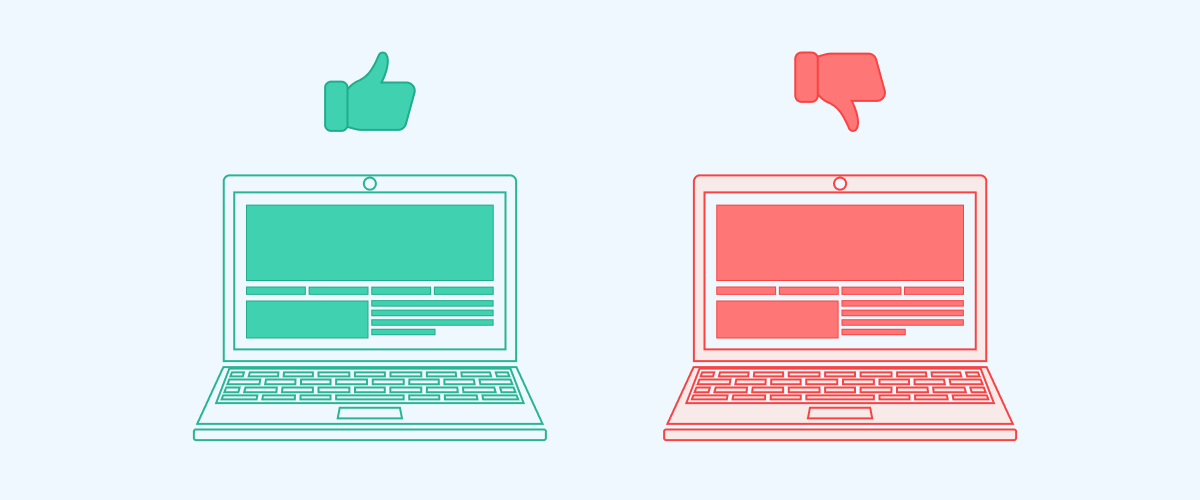 Moreover, one of the tasks set by the crypto marketing team is to build a brand and increase the project's credibility, and sites perfectly cope with it. Given that cases of scam projects have precedents, building trust and reputation is one of the main goals.
Another critical point, the site needs a blog. This is such a powerful tool, which many people underestimate, that it deserves its place among our top 15 crypto marketing channels.
#2 Blog
A blog is a must-have for any crypto project website. We should note right away that it is a long-term crypto marketing channel, which needs time to show itself. At the same time, it attracts organic traffic, i.e., relatively free. The main thing is to choose the suitable topics that interest your audience. You can write articles both for newbies in the crypto sphere, describing basic principles, and for experienced people, telling about a point problem and ways to solve it.
Quality and informative articles are the keys to this crypto marketing channel's success and high efficiency. Unfortunately, some people try to please the Google engine and turn their articles into a set of keywords, thus trying to fool the system. Don't abuse SEO or readers will close the page in seconds to never return.
#3 Social Media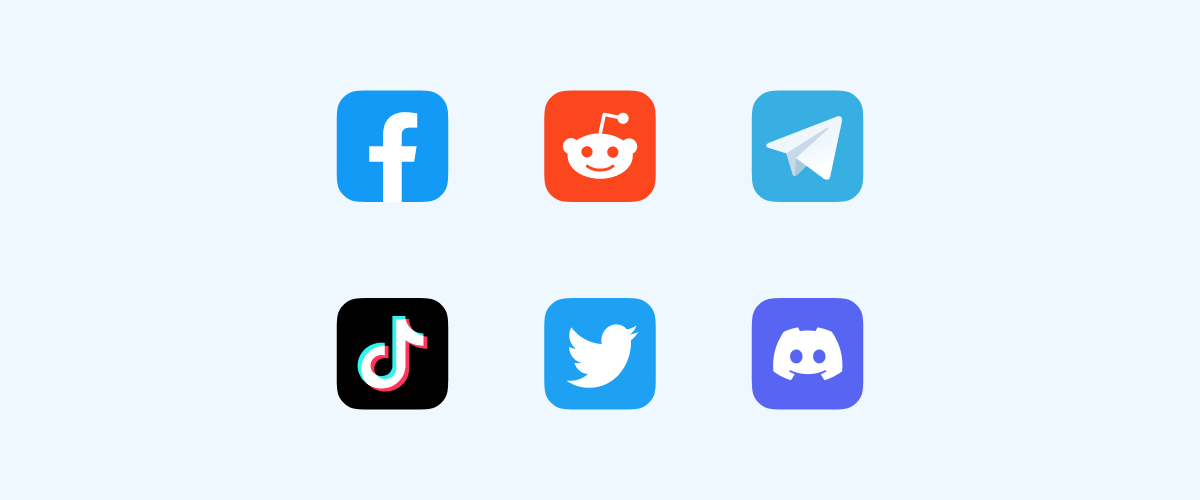 Social media are challenging the website for primacy among crypto marketing channels. They offer a wide range of opportunities for promoting any product. It's here where it is easiest to attract the interest of the target audience, investors, and famous people in the crypto world. It's cool to tag Elon Musk in a post, and he leaves a comment or reposts, isn't it?
Here, you can share news about your crypto project and discuss important events in the world of cryptocurrencies. Also, this crypto marketing channel is the best for building a growing community and brand advocates.
Social networks in which you must have an account:
These are pillars for crypto marketing activities, but the list of effective crypto social media does not end here. TikTok gains momentum among the crypto environment, with more and more crypto bloggers using this TikTok as their main platforms. Also, running your discord server to communicate in a close circle and appearing on resources like Steemit will be an additional source of the interested audience.
It is also worth remembering that people are drawn to opinion leaders, and social media allows you to build a reputation as a crypto expert and industry leader. Communicating in the comments, sharing your opinions, and co-streaming with other crypto influencers and many others builds brand awareness brick by brick. If the audience believes you, they will believe in your project.
#4 Influencer Marketing
Crypto influencer marketing is a much more effective crypto marketing channel than some think because it is not advertising in its pure form. There is no unnecessary obtrusiveness, no sales techniques. But it does have what people want: a personal recommendation or review from an opinion leader not directly connected to the brand.
Bloggers or opinion leaders will be able to tell his loyal community what your project is about, its usefulness, and its uniqueness. It can be video on Youtube, posts on blogs and social media.  It doesn't have to be a world-famous name like Vitalik Buterin, Roger Ver or Charlie Lee. Work with micro nano influencers, especially if you're targeting a local audience. It's an effective crypto marketing strategy; at the same time, it's much cheaper and easier to organize. Even if it's a person with just a few thousand subscribers, but they are your target audience, this is worth your effort. Many underestimate small communities, but their engagement and loyalty to that crypto influencer are much higher than in accounts with millions of followers.
#5 PR Campaigns
PR and press releases are a mandatory part of crypto marketing strategy if you want to make your project known to a broad audience. Crypto marketing experts often rely on press releases and partnerships with various news sites because it's a relatively inexpensive activity compared to other PR methods. One such platform is Coincodex, which has more than 1 million visits per month. Imagine how you boost your brand awareness if only half of these visitors read about your project. Even if a person has not heard anything about your project but repeatedly comes across it from other sources, most likely, he will at least become interested to know more about your project.
The main thing to always remember is that PR is about people's attitude toward the brand, not about increasing sales. So here are some classic ways you can add to your crypto marketing strategy.
Informing the target audience through press conferences, releases, and articles, which may include native advertising;
Participation in sponsorship activities;
Create videos that show your project in a favorable light and make a positive opinion among the audience;
Speech by the founder of the project at an event, exhibition such as AIM Summit, Gulf Blockchain, World Blockchain.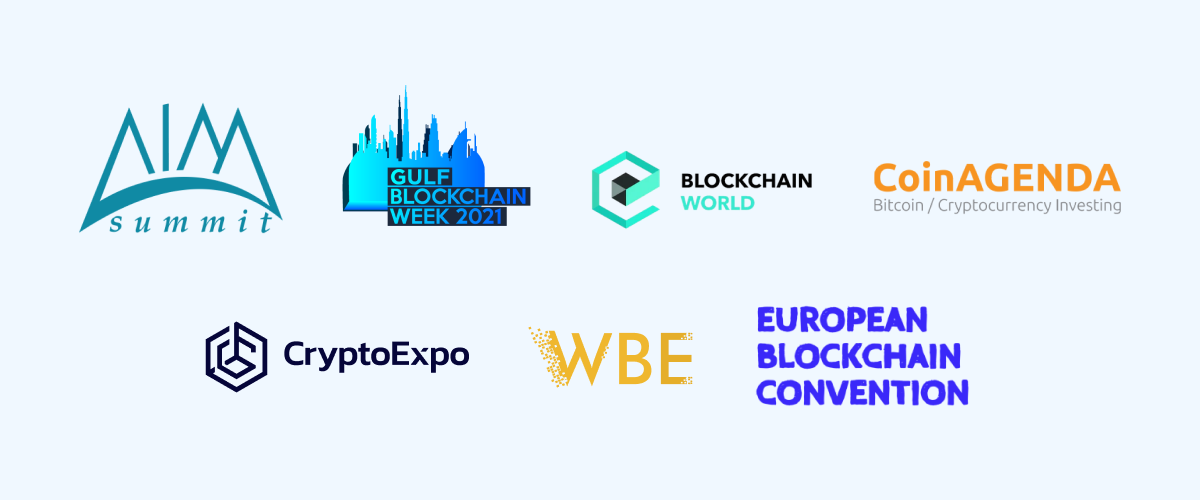 #6 Public Crypto Events
Attending blockchain and сrypto events is an essential component in the mosaic of cryptocurrency marketing. Finding new investors, attracting interest to your crypto project, and developing your crypto community — this and much more you can get by attending significant and relevant to your project conferences and forums.
You can even go further and start your event or become the main sponsor of an existing event such as AIM Summit, Crypto Expo Dubai, World Blockchain Expo, and European Blockchain Convention in Barcelona. With the right approach and implementation, this crypto marketing channel shows excellent results but requires thorough preparation for each event.
#7 PPC and Banner Advertising
On August 3, 2021, Google finally revised its advertising policy, and now PPC advertising is available to crypto marketing teams. However, this option is only available for cryptocurrency exchanges and wallets. Still, even these projects must comply with strict requirements: they must be registered with FinCEN as a money services business and with a federal or state-chartered bank entity. So if your crypto project is DeFi, DeFi trading protocols, initial DEX offerings, token liquidity pools, and unregulated dApps, this crypto marketing channel is still unavailable to you, at least on Google services.
Google is not the only PPC provider. For example, you can use industrial-focus services like Coinzilla, self-service advertising platform Active revenue, or crypto advertising hub A-ADS.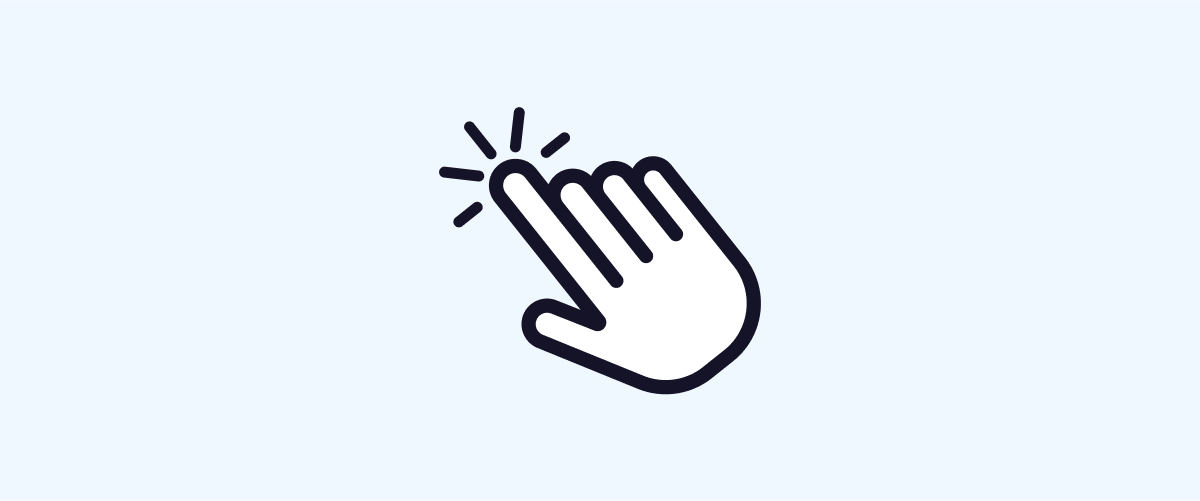 But banner advertising is fully available, so do not neglect this crypto marketing channel, which is an excellent way to increase brand awareness. There are many platforms and thematic sites that provide banner advertising services. In addition, you can arrange to place your banner on the areas of your partners and event sites, which we talked about in the paragraph above.
#8 SEO Activities
Nevertheless, using healthy SEO for a crypto project is also necessary. SEO-optimized sites are much better ranked in Google search results, which generally has a favorable effect on your blog's traffic, one of the critical crypto marketing channels. In addition, SEO for a crypto site is also crucial as it affects the speed of the site and the user experience on it. Now, if the site's response time is more than a few seconds, a user closes it and looks for another source of information. If you are interested in SEO, you can find more useful information and SEO hacks from leaders in this field. It can be Brian Dean on Backlinko.com or any other trusted SEO specialist.
However, do not expect quick results from SEO activities. On average, it takes about six months for it to start bearing fruit. But you don't start a project for a few months either. SEO optimization can include a variety of activities:
integration of relevant keywords into your pages;
image;
URL optimization;
crosslinking on pages;
and many others.
It's recommended contacting a trusted crypto SEO agency to determine what exactly you need. Why crypto? SEO should be implemented by specialists with experience in working with projects similar to yours because each industry has its peculiarities in website promotion.
#9 Email Marketing
Email marketing is a top crypto marketing channel that can attract and retain customers, increase brand loyalty, and find potential investors. Using crypto email marketing, you can inform people who are already interested in your project about its new features, event's announcements, and news in the crypto industry.
There are numerous services for email marketing, with ready-made templates of letters and the possibility of sending SMS and contacting people in various messengers. However, far from all email services agree to work with crypto projects. Therefore, we recommend considering Sendpulse or E-sputnik as proven and efficient platforms for emailing.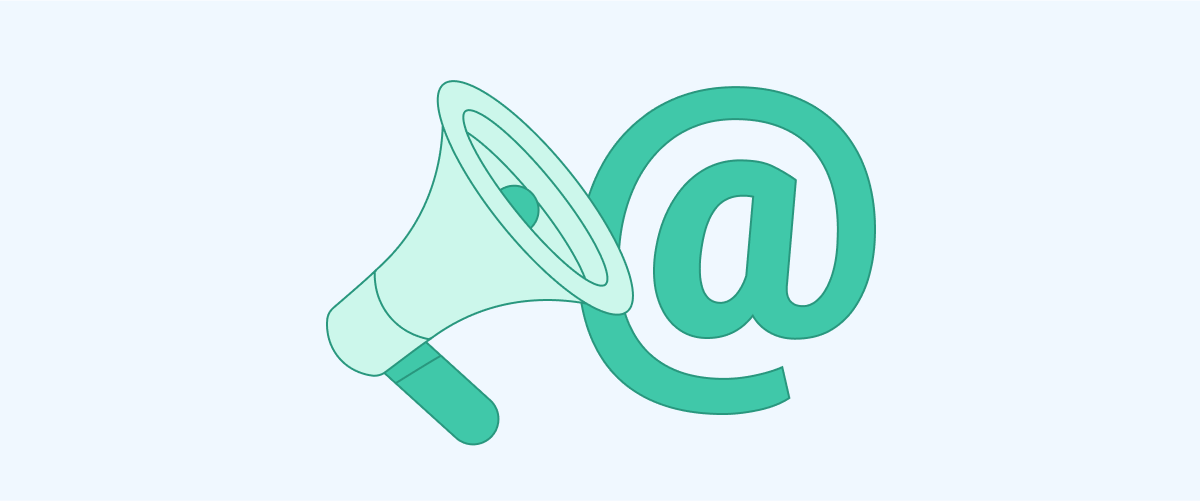 The only thing you need is a database of recipients. It can be contacts of the interested audience collected at multiple events and conferences or blog visitors. When someone spends some time on your site, you can offer to subscribe with a popup.
It is better to avoid using purchased databases because the person has to agree to receive information from you. Otherwise, the entire newsletter can get into spam. Also, do not abuse crypto email marketing by sending messages every day, then readers will get tired of them, of course, if it is not super important information, which is updated once a day, for example, morning briefing about the overall crypto market situation.
#10 Bounty Campaigns
Bounty campaigns are an excellent instrument of crypto marketing, aimed at advertising and popularizing a new project. This kind of token sale is a cooperative mechanism that benefits both parties. Your project will receive informational support, and you will be able to get a large-scale investment, which at the initial stage may not be available. Users receive tokens of the new crypto currency, which they can exchange for fiat or more well-known crypto, most often Bitcoin or Ethereum. Suppose the participants of a bounty campaign believe in the bright future of your crypto project, which is what crypto marketing activities aim for. In that case, they may not sell their earned coins but wait for the price growth, which again is to your advantage. In terms of numbers, a successful bounty campaign can bring 10k new followers and 1000+ shares and reactions. For a project just starting up, that's a significant boost.
You can also reward users with coins for actions that help you achieve your crypto marketing goals, for example:
Registering on the project website with your email address and confirming your consent to receive the newsletter;
Crypto PR activities in the social networks: retweets, likes, reposts, writing comments, subscribing to groups, logo placement on your pages;
Promotion of the project in specialized forums.
The effectiveness of such campaigns directly depends on the promotional budget; the more, the better. It is important to note that this budget has to be laid in tokenomics and approved by the trading strategy support team.
In the past, such crypto marketing activities were uncommon. Still, as the market develops and competition for investors' money increases, bounty campaigns can no longer do without them. A simple rule — if the audience knows little about even an auspicious project, it will not raise the necessary amount quickly.
#11 Crypto Events Schedule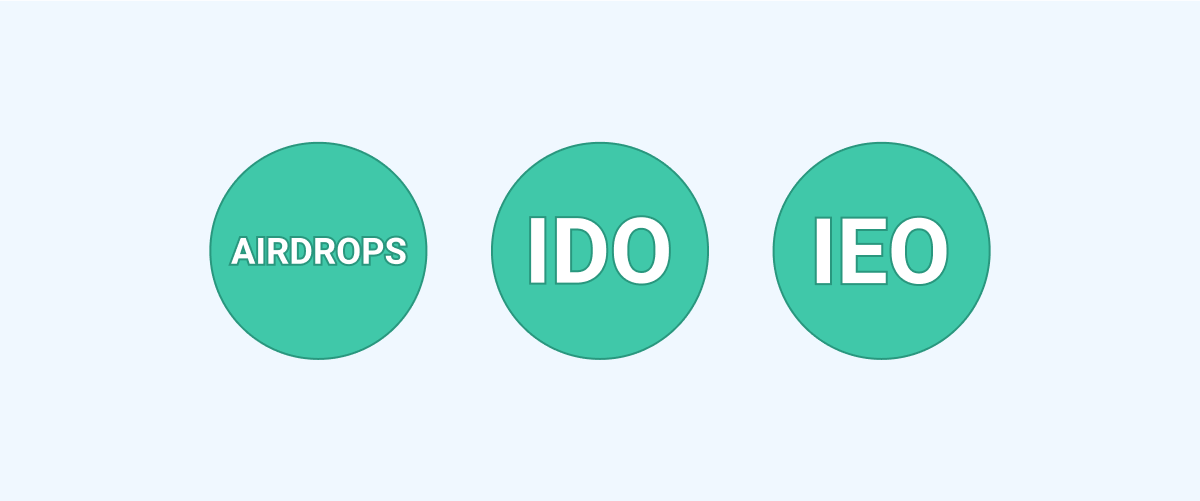 IEO and IDO are not so much crypto marketing tools as a stage in the life cycle of any project.
The only difference is that in the first case, the sale of tokens is carried out on a centralized exchange, and in the second case — through decentralized, so-called launchpads. However, they help to achieve the marketing goals in the same way.
Anyone can find announcements of IEO and IDO on CoinMarketCap, as well as dates of future project listing on cryptocurrency alerting. You can also mark interesting events to receive notifications about their soon start.
In the previous section, we already mentioned bounty campaigns. Here, we will talk about another activity necessary for the rapid growth of the project's popularity. In the current reality of enormous competition, no crypto IDO campaign can do without airdrops. As a rule, new projects allocate approximately 1-2% of the total amount of the issue.
#12 Podcasts and AMA Sessions
Quizzes and ask me anything (AMA) sessions have recently become popular crypto marketing tools, and both startup projects and world-known exchanges actively use them. We invite you to join our chat, where you always find announcements of future AMA sessions and other events.
AMA sessions in simple terms is a live broadcast in which a project team answers questions from the community. Participants are rewarded with a small number of tokens for the most exciting questions and activities.
During quizzes, participants answer questions related to your project. Those who answered all correctly receive a reward. Such online activity motivates the audience to learn about your project. It's also an excellent foundation for building the crypto community.
#13 Affiliate Marketing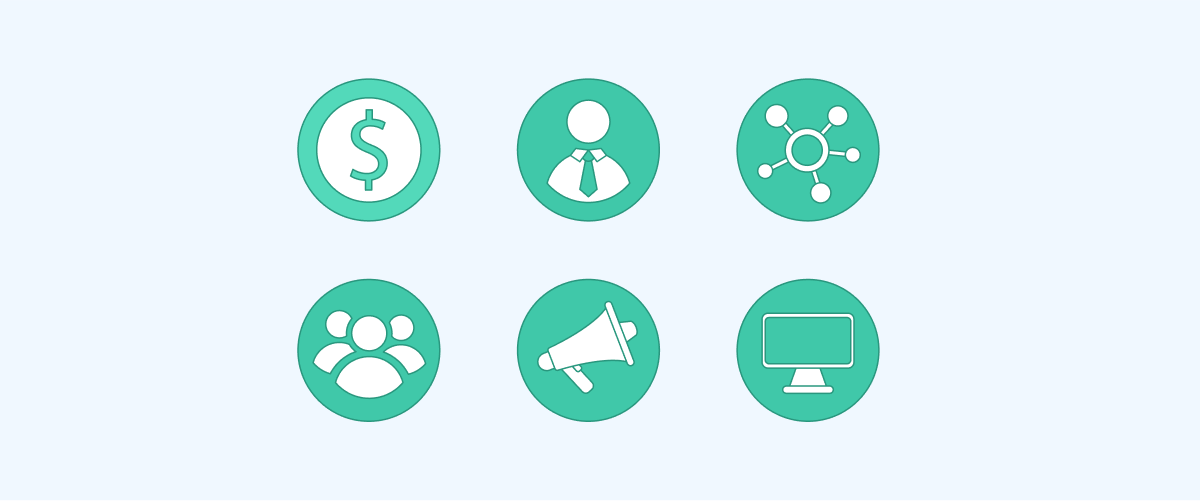 Crypto affiliate marketing is a great way to expand your customer base. And the whole process is done by the community itself. So let's look at an example of a crypto affiliate marketing program:
You offer your existing users to invite a friend to buy your assets. He has to click on a unique link for each user. When the friend buys coins, the one who invited him will also get a small reward. And the more new users go through your affiliate link, the more bonuses will be. Another option to implement a crypto affiliate marketing program is to give a small discount. This type of crypto marketing has an excellent audience response and performance.
#14 Crypto Community
Creating a solid crypto community on Telegram, Reddit or Discord is a dream of every project. Gathering enthusiasts who believe in your project is one of the main goals of crypto marketing. Most methods described in this article are aimed at that or rely on the power of the community. You can invest as much money as you want in PPC or SEO, but a good old-fashioned word of mouth will always work. Communicate with your users, hold AMA sessions and contests, i.e., show them that you appreciate them, and  they will rocket your product to the sky. Even something as small as responding to comments on a social media account makes a huge difference.
#15 Hire a Crypto Marketing Agency
As you can see, crypto marketing is a complex, multitasking process. To achieve good results, you need to build a strategy involving several crypto marketing channels. You can do it all yourself, but it can take much time, and it's challenging to cope with if you don't have relevant expertise. The best solution is to contact a crypto marketing agency that knows what marketing is in a nutshell and at the same time knows all the nuances of the cryptocurrency industry. It isn't easy to give exact recommendations on choosing the best crypto marketing agency. However, it is worth paying attention to their portfolio; it should contain case studies of successful crypto marketing campaigns. All goals they plan to achieve should be measurable and tangible. For example, it is not a good strategy if you are promised a substantial increase in users. A good option is to talk to several agencies and compare their offers.


Final Thoughts
We have listed 15 crypto marketing channels that you can use. Some require significant investment; others require deep knowledge of marketing and a clear strategy for their implementation. Which is the best is a complex question. However, it's safe to say that the more channels with the audience you use in your promotional campaign, the better result you will achieve. If you need help, our experts are always ready to help you with all crypto marketing activities. Whether it's SMM, scratch for influencers, Banner advertising, Bounty and PR campaigns, or AMA sessions, we have experience in it and know what crypto project's goals are and how to achieve them.