SDFA+DPP—Win Over Scam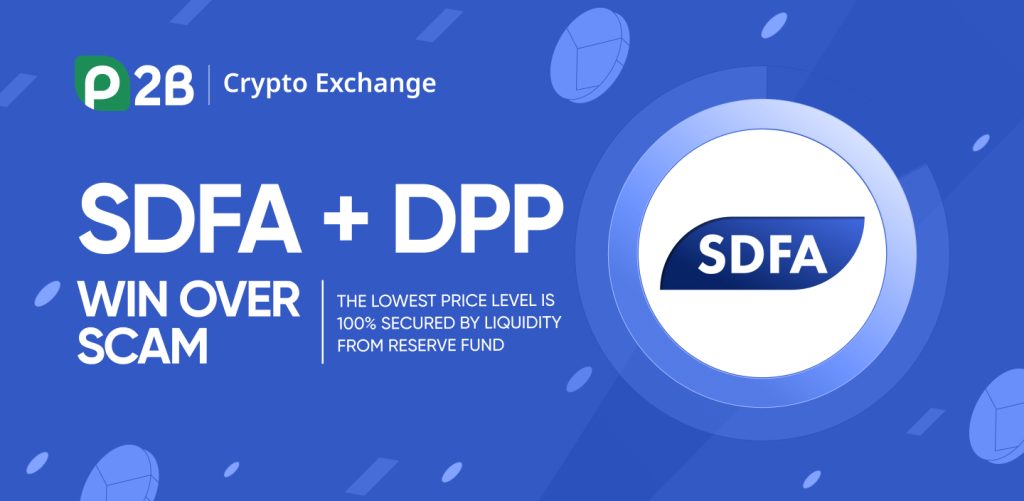 SDFA (secured digital financial asset) is a volatile blockchain-based asset to create infrastructure projects and programs in the real economy sector with high-risk management requirements.
DPP (digital printing press) is an automated system that makes only profitable pairs of "buy-sell" trades, optimizing work parameters using artificial intelligence. DPP distributes a deposit over the entire range of changes in the asset price, which allows purchasing cheaper and selling more expensive while making only profitable pairs of trades.
 The result of the SDFA + DPP collaboration is the replenishment of the reserve fund, which provides 100% liquidity to the lowest price level. The lowest price level is the answer to the question at what price an asset can be sold if all owners of a publicly traded asset put it up for sale with minimal demand. Obviously, for the value of the lowest price level to increase, the asset price has to increase.
SDFA Mission 
The main mission of the SDFA is to provide a reliable infrastructure based on smart contracts for projects and programs that provide users with unique opportunities to receive services in education, social sphere, labor, etc.
SDFA+DPP Benefits
As a result of the SDFA + DPP collaboration

Protection against devaluation—due to the lowest price level, 100% backed by the liquidity of the reserve fund;

SDFA can be used in pawn smart contracts for guaranteed access to external services;

Safety — provided by blockchain technology. 
Best SDFA Use Cases 
Social programs.

SDFA can be used in infrastructure social projects to access services, subsidies, and socially relevant functions, including conducting public surveys, identifying consumer preferences, etc.

Educational projects.

The SDFA technology enables access to customizable international educational programs. Due to this technology's functionality, educational programs' developers can design educational products accessible to a wide international audience. 

Real estate development projects.

SDFA app allows improving the development efficiency and speed of design and estimate documentation for international construction projects.

IT project development.

SDFA simplifies IT development processes for distributed teams, including management of intellectual property results in knowledge-intensive projects.

R&D.

SDFA can be used in R&D projects to improve the efficiency of artificial intelligence algorithms and new principles for improving computing performance.
How does DPP make only profitable pairs of trades?
Eliminating the process of predicting and guessing the exchange rate;

Buying cheaper, selling for a higher price;

Making money on volatile markets;

Effective trading when a price is growing and when the price is dropping;

Using profitable longing strategies in case of sharp growth of the rate;

Distributing the deposit over the entire range of possible exchange rate changes;

Optimizing the profitability of each pair of trades using artificial intelligence.
Benefits of using DPP technology
3 years of trading experience

Over 500,000 pairs of trades

Return on each pair of trades from 0.5% to 15%
Next steps 
DPP will disclose principles and profitability indicators for all the P2B users.   
Already during the first x20 increase in the SDFA price after listing, the principle of operation of the lowest price level will be clearly demonstrated thanks to the publicity of this information.
Listing
 SDFA will be listed on the P2B crypto exchange on Oct 5, 2023.