P2B wishes you Merry Crypto Xmas & Happy New Year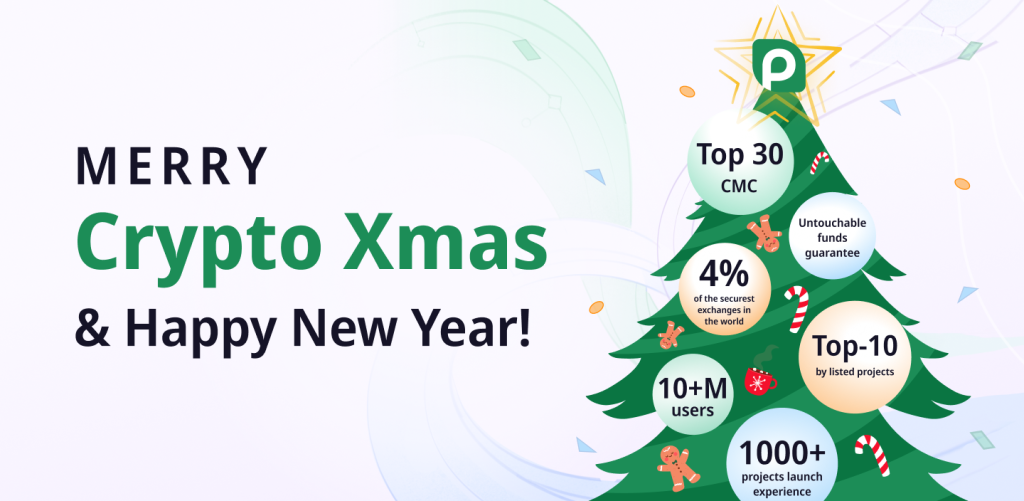 Hi there!
This year seems to be too long because of all the storms and challenges appearing here and there. But inevitably, it comes to its logical finish. And we must make our "sweet and sour" conclusions about what we've accomplished and what's still on the list.
Let's dive in!
 In 2022 P2B changed a lot:
We were recognized as one of the Top 30 exchanges, according to an autumn 2022 review on CoinMarketCup, and as one of the most intensively growing exchanges in the world.

P2B declared the untouchable funds guarantee: our users access and possess their assets without limitations with our exchange.




We participate in 4% of the securest exchanges in the world, according to the Cer.Live.

P2B conducted rebranding based on inner growth and transformation.




P2B stands still as a calm harbor during the crypto winter for the 10+M users of our website.

We put a lot of work into the liquidity mechanics for the projects entering the market.

We're sharing the experience of the 1000+ project launches with other companies entering the market.

We were recognized as one of the Top 10 most popular crypto exchanges with listing services and the Top 10 by the number of listed projects worldwide.  
And we're not planning to stop in 2023. We set the following goals for our exchange:

P2B extends to new countries! Thus, we gain more popularity and visibility on the global market.

We build up the knowledge base about trades and listings, the crypto market, and successful projects and share it with everyone.

We are eager to get even more satisfied customers thanks to the improvement of our first-class customer support.

P2B continues to develop the platform and prepares a pack of solutions, product updates, and features for projects and traders.

We expect even more exciting launches on our exchange!

New global partnerships are initiated on mutually profitable agreements, programs, and offers. 

P2B stays reliable for our traders and projects leading both sides to their goals and success. 
We are eager to know what will happen next on the crypto market and welcome the day after the bear phase ends.
Happy upcoming 2023, everyone! 
We thank you for being with us all this time. Let's enjoy the time with our family and friends, celebrating the new hope entering our hearts and the new energy we gain to move the world!
Read more articles in Announcements