P2B Rebranding: Go-2-market engine for crypto projects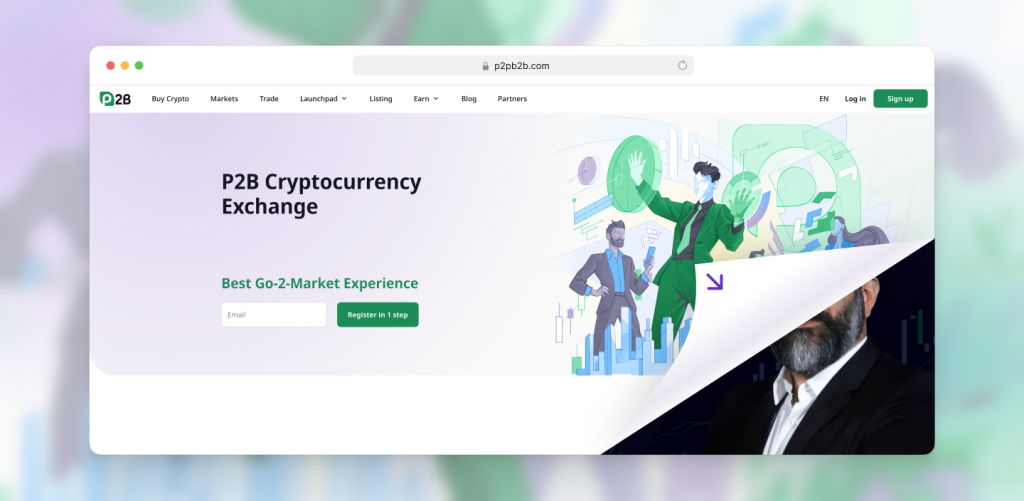 After five years on the market, the P2PB2B crypto exchange is ready for a new level of self-consciousness and more comprehensive positioning. Now, we are P2B ("Place-2-be"), and it's not only the name that is changed.
Being a go-2-market rocket, P2B launched more than 1,000 crypto projects. Our audience grew with us, and we met thousands of enthusiastic people curating the most pioneering projects of crypto. We discovered that they all need a safe "place-to-be," a simple and reliable crypto revelation platform that would accept them even if all other doors are closed. That's how we have come to our new role for crypto startups and first-time enterprise projects.
 These five years made P2B meet many inspiring people: from crypto business inventors who make the world spin—to 13-years old prodigies who asked us to help them sell their dog's token. Thanks to our audience, we become the calm haven for crypto newcomers to make the whole crypto world a more productive, secure, and understandable place to be.
Anastasiya Manina, Chief Brand Officer for P2B
How we forged our new P2B brand 
Things that have changed us a lot are pretty obvious. 
First, any exchange must stay profitable and exciting for the clients: both users who trade and projects that list there. Second, the analysis of our everyday experience with clients led to understanding the market and technology we're operating with and the essential mission of our company. And last but not least, the team of our exchange and the mindset each employee has brought to the table became the main engine of change.
So that's how it looks like now:
Explore

→ We consult our customers to make the crypto world easier to explore, open new technologies, and adapt them for a viable business.

Experience

→ P2B is a safe place to start your crypto journey. Our listing managers are happy to share all their experiences with thousands of startups to prevent any mistakes you can make.

Expertise

→ We are a mentorship platform with a unique set of experts that impact the market and can rocket-launch your project as a viable business, not only a promising startup. 
We decided to concentrate on what we're doing best: our main mission is to facilitate the entrance to the crypto market for both projects and traders. That's how our brand name reveals the new sense behind it.
P2B pivot points
Industry-level goal:
To sustain the mature market of crypto with new profitable projects
P2B will stay the best platform to start for any crypto newcomers. We'll saturate the market with the new blood of active projects, crypto business ideas, tokens, and coins. Other exchanges may be too conservative to let all participants join the trading process together around one table. But we believe that with proper attention and fraud check, P2B won't let any promising crypto startup fade out.
If you're looking for the freshest tokens to trade, welcome to P2B.
Service-level goal:
To lead crypto projects to investors and adapt them to the crypto jungle
P2B experts educate, consult, support, and create liquidity for the crypto business. Starting from market analysis and matching it with a unique trade offer of a startup, looking for the audience to attract, and building up a strategy for it, ending with all-included listing and launch support at our exchange. We show projects how to get their market share, gain the first essential investors' support, become popular, and prepare for further development.
Learn from our experience of successful and failed crypto projects to build up your business success and avoid painful obstacles. And make it easy.
User-level goal:
To maintain a plentiful, secure environment for all participants of crypto trading
We created a secure place to be for any crypto project and trader at P2B. There's always a way to improve your crypto prosperity and do it in the safest possible manner, thanks to our principles:
We give a right to enter the crypto market to anyone, no matter how small or big your project is, and we're ready to support the transformation of this thought into a lively business.

We check each project before listing it. Thus, we minimize the chances of listing any harmful projects. Also, our traders can do anything with their assets covered by KYC policies, simply buy crypto or buy tokens at IDO.

We'll continue to participate in international rating systems to prove our visibility. Our exchange is checked by crypto rating agencies that are honest with their audiences.
Thus, we're doing everything possible to make crypto a safe place to be for both projects and users of crypto technologies. 
P2B future vision and action plan
In the following five years, before the next milestone appears, we're ready to implement our brave plan to present new projects from all over the world to the crypto market and open crypto trading for millions of people. 
Forge a stable and viable crypto business from the ideas of the projects that come to us.

Build the community of crypto projects as one mature market. 

Collect the experience and expertise of the crypto industry and share knowledge with the market players.

Befriend many projects and build up new markets, and make crypto technologies understandable for anyone on a global scale.
For our traders, this will mean even more exciting tokens to trade and invest in finding new dimensions of trading and earning in a constantly secure environment of P2B.