MaalChain (MAAL) has been listed on P2B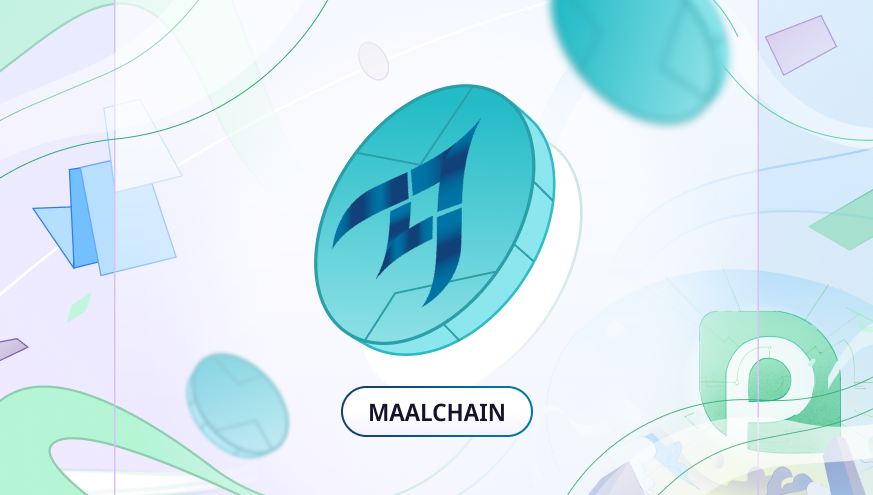 About the project
Meet MaalChain—a leader in innovation, reshaping global business interactions and processes. The MaalChain Layer-2 EVM blockchain streamlines transactions, saving users' money. The Layer-2 solution tailored for custom private dApps integrates with familiar EVM tools for effortless deployment. The blockchain-based projects offer the most effective solution for implementation in government and financial institutions. 
Mission
The MaalChain mission lies in the integration of an effective Layer-2 EVM Blockchain-based solution compatible with Maqasid Al Shariah-based principles into the Islamic community, where hesitancy in adopting innovative technologies into the regulation, financial institutions, and government agencies occurs due to religious beliefs. 
Challenges to solve
The MaalChain mission is to meet the challenges facing the blockchain industry, which make it difficult for integration into the regulation, financial institutions, and government agencies to embrace the technology due to concerns about compliance and origination of funds. One of the essential challenges the crypto project solves is hesitancy within the Islamic community in adopting blockchain technology due to religious beliefs centered around a lack of incorporated Maqasid Al Shariah-based principles.
Approach used by MaalChain 
MaalChain effectively addresses the challenges, concerns, and skepticism associated with existing blockchains and dApps. The crypto project achieves these results by integrating the MaalChain Layer-2 EVM blockchain that incorporates the innovative Concept of Identity, enabling private distributed ledger technologies (DLTs) to operate within a public DLT blockchain seamlessly, effectively functioning as a hybrid blockchain.
This unique approach empowers MaalChain to tackle critical challenges most effectively, including trust, security, and regulatory compliance, making it an ideal solution for diverse and extensive organizations. Maal uses Ai – the Al-Mutaqin consensus, ensuring compliance with Maqasid Al Shariah-based principles.
Principles that lie at the core of the project
Maqasid al Shariah aligns with the benefits of MaalChain technology, as it offers solutions and relief from difficulties. 
Principles used by MaalChain in building strong solutions to meet challenges that occur in the regulatory and financial fields in the Islamic community:
Facilitation—a key goal of religion, encompasses various aspects of Islamic Laws (Shariah), including rulings, beliefs, ethics, transactions, origins, and branches. MaalChain embodies facilitation by expediting transactions, saving time and money, and enabling individuals to conduct more transactions within a shorter timeframe.

Security—MaalChain provides strong security through user verification, preventing hackers from disrupting transactions. The immutability of data ensures information integrity. It enables secure money transactions while protecting individuals' wealth and allowing convenient access to medical data, even in emergencies.

Transparency—MaalChain technology ensures enhanced transparency while maintaining privacy intact. As a result, important contract-related data cannot be concealed before the transaction. The data pertaining to all parties involved in the contract will be securely encrypted with specific codes accessible only to authorized individuals.

Anti-Monopoly—blockchain technology has the potential to eliminate the requirement for intermediaries in various types of transfers, whether they involve capital or personal matters. Consequently, end customers will experience reduced fees and charges from blockchain providers, leading to the eventual eradication of monopolies held by specific groups.
Long Story Short
MaalChain achievements include:
Collaboration with Labuan Financial Services Authority (LFSA), resulting in an expected announcement of Tijarah Holding Ltd., including Ummah Linked Company, which gives the crypto project a tax-free period of 3 years and direct access to all govt projects as preferred blockchain;

Partnership with University Malaysia, Sabah, and other private universities to bring about blockchain awareness and attract new talents to develop the Maal blockchain;

Malaysian Digitial Chamber of Commerce collaboration in developing Maal blockchain adoption through assisting dApp development and education;

Airdrop campaign held;

Strategic collaboration with Pengurus Wilayah Nahdlatul Ulama, Jawa Timur (PWNU), a regional board of Nahdlatul Ulama in Indonesia. Nahdlatul Ulama is reported as the world's largest independent Islamic organization, boasting a membership of 60 million in Indonesia and an additional 30 million outside the country.
Listing 
The MaalChain listing will be launched on the P2B exchange on Nov 2, 2023.