Staking PACT
Haven't gotten any PACT yet?
Double profit when staking PACT
Staking PACT

The more PACT you stake, the higher APY and earning bonuses you get!
Stake and Earn. Simple as that
PACT Staking gives you more opportunities than ever. You may lock your PACT for a certain period of time while it develops the price and increases its capitalization. You receive bonuses after staking is finished and during it as well.
Calculate Your Income
Estimated Profit
Staking Rules
1.

Staking period is 180 days, a shorter session is not available. Start date is counted from the last deposit, session may be extended.

2.

If you make an additional deposit before 180 days period is finished, your Staking session will be recalculated and starts from the beginning.

3.

Your staking deposit is not available until the end of the Staking session.

4.

Interest is credited to your main account every 7 days. So you may use the profit you get immediately.

5.

The funds are transferred automatically to your main balance after the staking session is finished.
Referral Staking Bonus Terms
1.

If your referral joins PACT Community and participates in PACT Staking, you will receive --% from the referral's staking balance.

2.

Amount of credited PACT as a referral staking bonus cannot be higher than your PACT staking balance.

3.

PACT will be credited from each referral's PACT transfer to your staking.

4.

Bonus PACT will be credited to your PACT account in LOCKED status.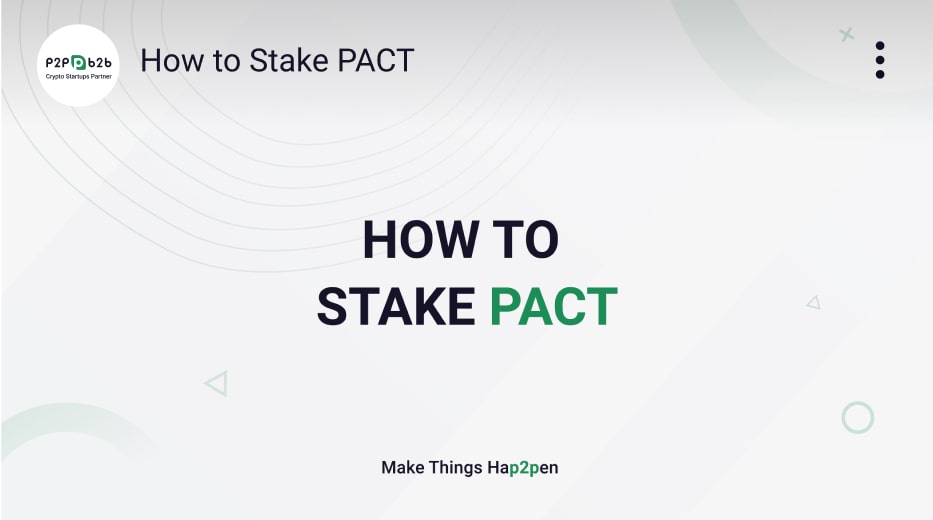 History
Coin
Amount
Date
Activate deadline